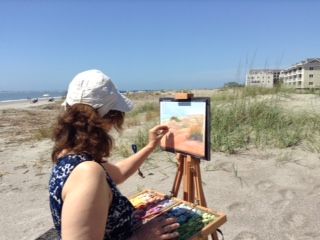 Some people like snow… some people like summer. Personally, I'll take summer.
We all have our "Special Place" – and if you read my blog, you know mine is on the beaches of Florida! That's why I've done so many beachscapes over the years… After all, for me, a painting takes you away to another place where you can live for a little while and escape from everyday life.
In nearly 25 years as a working artist, I've painted backyards, portraits, still lifes, landscapes, and cityscapes. And to celebrate my 25th year in business, I want to focus on creating paintings of your Special Places. Something you can hang on your wall that takes you there, something that gives you that deep sense of peace and joy. This has always been my goal.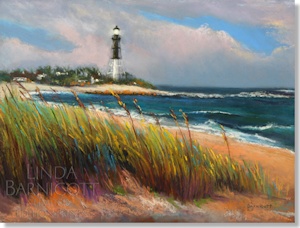 In 2014, I would love to have the opportunity to create an original piece of art (maybe your first?) of your favorite vacation spot. And if you want to share it with family and friends, we can create a unique print edition just for you.
Between my work for the American Cancer Society and Breathe Pennsylvania charities and my shows, I can only do a limited number of original pieces in a year's time. Because of my hectic pre-holiday show schedule, if I don't finish a painting by November 1st, as I always say to my husband, Tom, it won't get finished until after the holidays. So if you would like to get an original painting of your favorite vacation spot this year, let me know as soon as possible.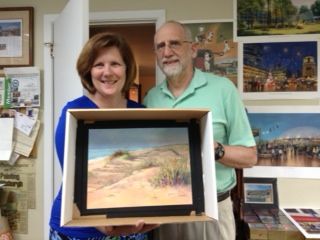 Here's a happy couple who purchased an original painting of their favorite vacation place!
So pull out those old photos, and let's get together and dream! Just drop me an email or call me at 412-372-3200!
P.S. – I'm loving the stories that are coming in about how my work has brought back great memories! Please keep sending them in via email or even snail mail! I'm putting together a collection of these stories in celebration of my Silver Anniversary.