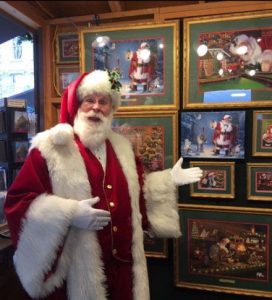 Here we are already on December 13, with Christmas just 12 days away.  It has been a real pleasure to visit with so many people at my Chalet in Market Square, from my loyal readers who have been with me through many holiday seasons to new friends and fans… some of whom were just wandering through Market Square, and one of my paintings caught their eye, triggering memories of times gone by.  One of my favorite things about this season is hearing stories about how my paintings remind you and your loved ones of heartwarming memories.
Can you guess which one of my paintings (and its associated giftware) was my biggest seller in 2019? You're probably thinking it's one of my paintings of The Point, or maybe a Kennywood scene, or maybe a sports-themed piece… but you would be wrong!
In 2019, my best-selling image was "Hills is Where the Toys Are," starring Pittsburgh Dad!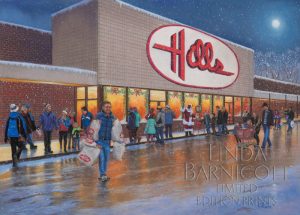 That's right!  I painted a big box store, and people love it! The Hills print and candle get a great reaction from folks as they browse at the Chalet … one sniff of the candle, one glimpse of that iconic Hills sign, and they say it takes them right back to the old days with popcorn and Icees and picking up the Christmas layaway.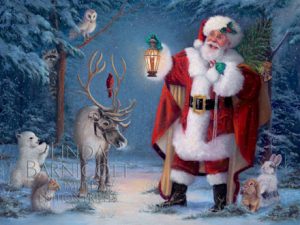 The runner-up, however, will not surprise you at all!  Prints and gifts of "Santa's Woodland Christmas," the final painting in my Jolly Old Elf series, have been flying off the shelves (and walls).  Visitors to the Chalet have commented on the lovely shades of blue (a departure from the usual Christmas red and green), but especially how they love the happy little critters in the scene.  (Check out the cardinal sitting on the reindeer's antler!)  In fact, Santa himself stopped by to see me at my Chalet this week to say hello and to admire his latest painting!
I still have two of the "Santa's Woodland Christmas" 12 x 16″ metal pieces available, as well as prints of all sizes, candles, ornaments and magnets.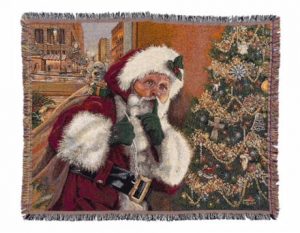 Speaking of Santa, I've had so many compliments on my 2019 limited-edition Shhhh! Santa throw blankets, especially when people see it in person.  Only a few are left, and once they're gone, they're gone forever.  So if you or someone special would love this warm and snuggly art blanket, don't wait!
And of course, the Chalet is well stocked with my ornaments, magnets, 8 x 10″ prints and more.  I've been selling a lot of the Heinz Field prints and gifts this year, still a fan favorite, and one of mine as well – in fact, I have the original in my home gallery.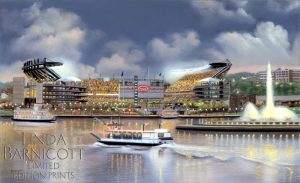 Finally, if you're in need of corporate gifts, teacher gifts, grab bags, or what have you, I'll be here in Market Square until Christmas Eve!  As always, I'm happy to sign my prints and gifts on request and personalize them for you or the recipient.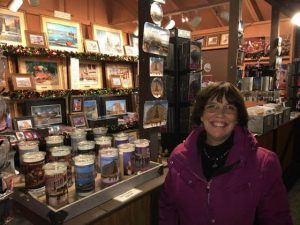 So I hope you'll consider one of these best sellers as you finish up this year's holiday gift shopping!
PS – If you're thinking of ordering online, my Postal Elves have informed me that 9:30 pm tonight (12/13) is the deadline for guaranteed Christmas delivery through the USPS.
PPS – Though you can still order them, artist-enhanced giclee prints require an extra step in preparation and therefore aren't available for Christmas delivery.