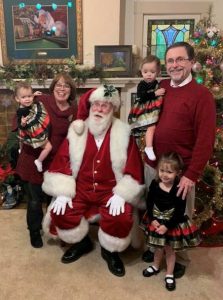 With just a few days to go until the New Year begins, I hope you all are having a wonderful holiday season!
The Barnicotts have had an especially delightful Christmas this year… especially compared to last year, when Christmas was still a work day for Tom, and poor Autumn spent the night at the hospital. But the best part this year was when we were gifted with a visit from Santa Claus himself on Christmas Eve.  Santa was kind enough to make an unscheduled stop (in the daytime!) on his busiest day of the year, and Aria was beyond excited that Santa actually came to Grandma's and Bop-Bop's house.  Naturally, we all had to pose for a picture with him to prove it!
If you look in the background, you'll see one of Santa's portraits over our mantel as well.  In January, that original painting will be going to a new home with one of my collectors. I'll be sad to see it go… guess I'll just have to paint something to take its place! (Fortunately, I'm an artist, so I can do that, right?)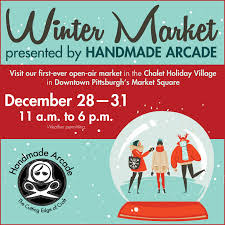 But before I go back to the studio again – and for the first time in the history of the Holiday Market in Market Square – we will be opening our Chalet doors one more time tomorrow through New Year's Eve. From Saturday, December 28th through Tuesday, December 31st, we will be open for business from 11 am to 6 pm each day under the banner of Handmade Arcade!
Not only are there four more days to enjoy the festive Holiday Market, but for me personally there was an added bonus – this was the first year I didn't have to break down the Chalet on Christmas Eve… so I was actually awake for the holiday!  Maybe that's another reason this year felt like the perfect Christmas?
It means a lot to me that so many of you stopped by during the holiday season to purchase artwork or just to say hi. Wishing you all a happy, healthy and prosperous New Year.  May 2020 be your best year yet!
Happy Holidays!
Linda