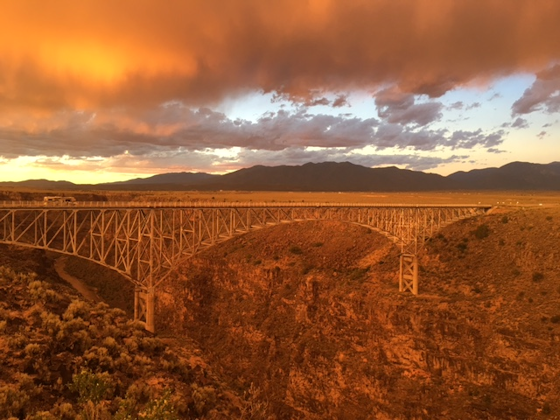 Today is our last day in New Mexico, a place I've fallen in love with in the past two weeks. But even though I'm sorry to leave it behind, I'm excited to return home to my family, my business, and my painting.
This week in Taos has been nothing short of amazing. Tom and I have been doing a lot of hiking and exploring the history of New Mexico.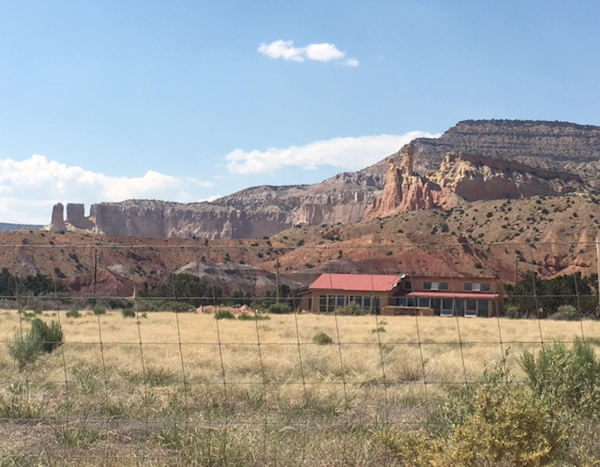 One of the highlights was visiting Ghost Ranch, where painter Georgia O'Keefe first fell in love with the West. I read that when she arrived at Ghost Ranch, she looked around and said "This is mine." Later she told a reporter that if she painted the land of Ghost Ranch enough, God would give it to her. She did eventually acquire 7 acres on the ranch, where she lived a long and productive life, painting the beauty surrounding her until she died at the ripe old age of 98.
I definitely understand where Georgia was coming from. Once you've experienced this amazing part of New Mexico, it would be hard not to feel the same way. It's so different from Pittsburgh (or anywhere back East for that matter) that I can't even imagine what it must have been like for the settlers as they arrived here. What did they think when they saw this alien landscape?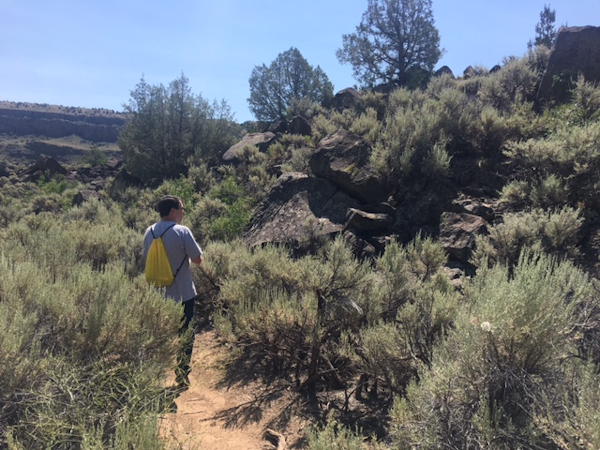 As Tom and I hiked extensively in the desert with nothing but our water bottles and each other, I developed a deep respect for the original Native Americans who inhabited this land. How were they able to survive and thrive for centuries here in the desert? Tom and I don't possess any survival skills whatsoever. And if we had to walk in their shoes…. well, let's just say we probably wouldn't last very long!
At Ghost Ranch, I really took to heart what Georgia O'Keefe said, "This is mine." The beauty of this place has reached into my soul, and I too feel that God has given it to me, to live forever in my heart and to share with others through my art. I have so many photographs from our trip that I could paint them for years.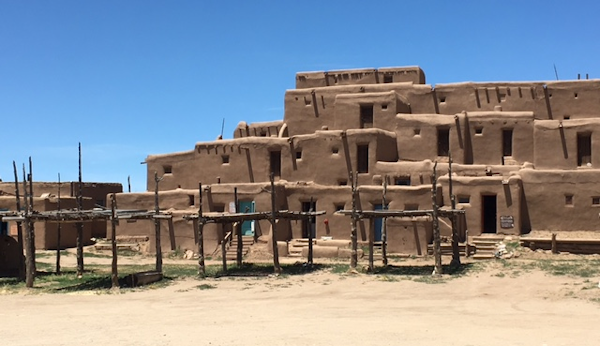 The last two weeks have been a brilliant, enlightening art experience for me as well as an inspiring and restful vacation trip. But I'm ready to hit the ground running when I return to Pittsburgh!
P.S. – Don't forget, I'll be at the Night Market in Market Square on Saturday, July 1st, 8th, and 15th from 5 to 10 pm with all of my smaller gift pieces. Stop by and see me! CLICK HERE to view my Calendar of Events and find out more about this and other upcoming events.
P.P.S. – I know summer is just getting started right now, but when the fall months come, thoughts will turn toward the gift-giving season. In September and October, I will be offering Lunch Gift Shops where I come to your place of business with my art gifts for sale. If you think this is something you might like to do, please contact me.
Make sure you are the first to know about all of my news, appearances and any "special deals" I am offering to my subscribers, by taking the time to sign up for my weekly newsletters now. CLICK HERE to sign up. You will also receive a FREE slideshow showing the step-by-step development of my painting, "Celebrating Time and Tradition at Macy's".