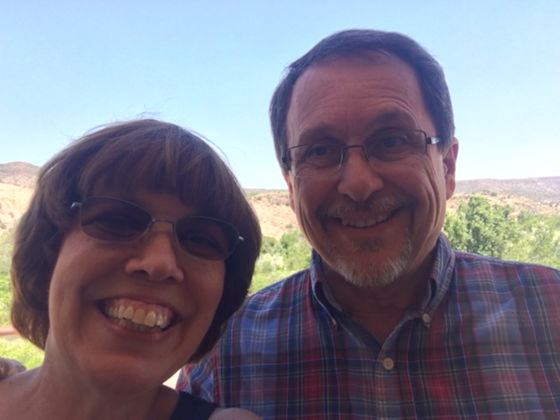 What an amazing couple of weeks I've had in New Mexico… between the life-changing art convention and our wonderful vacation, I've been inspired to say the least. We took hundreds of pictures of our trip to New Mexico because we wanted to remember everything. So we couldn't resist one last snapshot before leaving Taos. We certainly look happy, don't we?
When we finally rolled up in front of the house on Saturday morning, Tom and I were delighted to see that the flowers in our garden here in Pittsburgh had grown into giants. Thanks to the good care given by our children and Mother Nature, we didn't lose any plants. Every time I see our garden, it makes me smile. I remember writing to you this spring about how I felt like I was actually painting our front yard with flowers. Coming home to our beautiful garden was a pleasant way to end our adventure and return to the rhythms of daily life.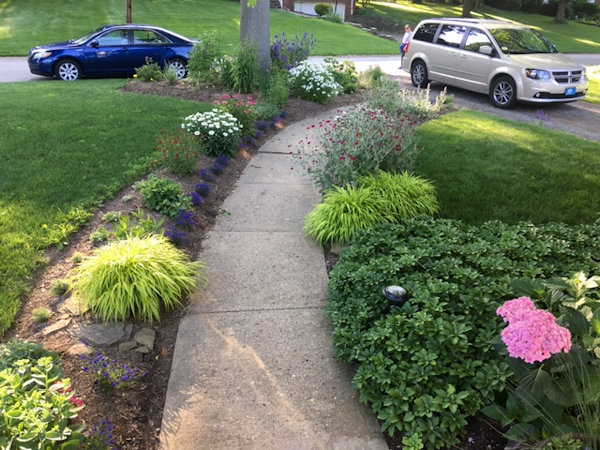 Although I've left the Wild West behind, I was more than ready to get "back in the saddle" again and do some serious painting! I had a lot of important work waiting for me when I arrived at home, so unfortunately painting sagebrush and sunsets will have to wait.
I didn't mind, though – traveling has a way of grounding me and renewing my energy so that when I come home, I'm eager to jump back into my work.
In the days leading up to my trip, things were pretty frantic, but I was relieved because I had just finished "All Aboard with Santa" and could leave town with a clear conscience!
Since I've been home I've started to work once again on the mural for Forbes Hospital. I have one more step to set up the pastel boards for the first three panels of their history wall, and then I'll be ready to paint them. Then I have to design the last two panels and get them approved before I can get started on painting them. It's a long-term project, so I try to work on my other pieces around the deadlines and approvals.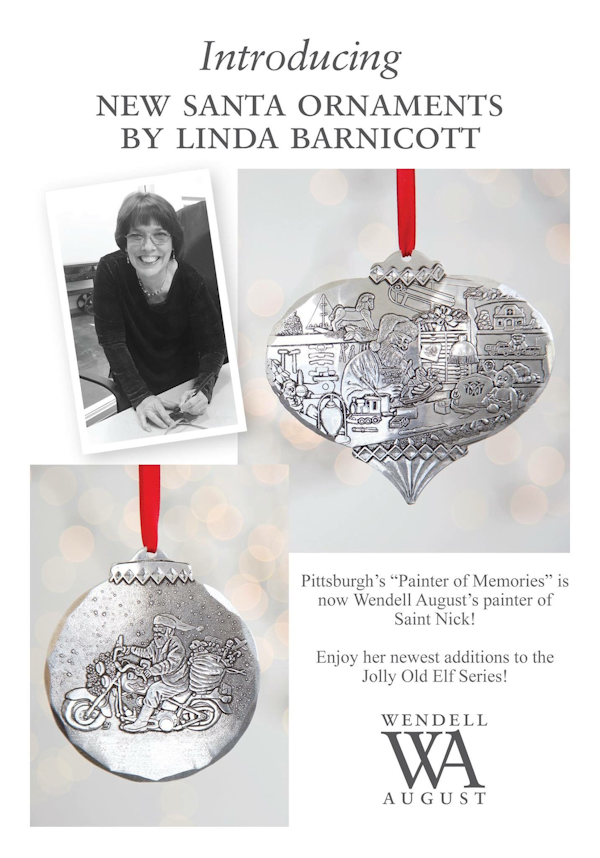 Some great news I received while I was away – Wendell August Forge has released two new ornaments from my Santa series. I absolutely love my "Making Magic in Santa's Workshop" handmade aluminum ornament. The detail is incredible. And "Santa's Joyride" looks great, too! They're now up on my website if you would like to pre-order them for Christmas in July. CLICK HERE to check them out. Wouldn't it be nice to have some Christmas gifts handled before the season even begins? I'll even sign the back of your ornament for you – just let me know in the Comments section of the order form.
As always, summertime is a busy time for me, with a lot of outdoor shows. This week I'll be in Market Square for the Pittsburgh Night Market on Saturday, July 1st, 8th, and 15th from 5 to 10 pm. I'll have plenty of gift ideas for your favorite friends, family, and co-workers. Stop by and see what's new this year. Can't wait to see you and catch up! CLICK HERE to view my Calendar of Events and find out more about this and other upcoming events.
Make sure you are the first to know about all of my news, appearances and any "special deals" I am offering to my subscribers, by taking the time to sign up for my weekly newsletters now. CLICK HERE to sign up. You will also receive a FREE slideshow showing the step-by-step development of my painting, "Celebrating Time and Tradition at Macy's".