As we count down the final week of our 2016 season, the Holiday Market in Market Square is buzzing with excitement!
There's a festive mood with the beautiful decorations and joyful holiday music in the air. The Square is filled with last-minute shoppers, students home from college, and families from near and far who are gathering together for the Holidays.
My new "Jolly Old Elf" Santa series has been a big hit this year. And as usual, my paintings and gifts of beloved Pittsburgh landmarks – Kaufmann's Clock, Horne's Tree, PPG's skating rink, and of course, the iconic view from Mt. Washington in "My Hometown" – are bestsellers.
One of my favorite parts of participating in the Holiday Market each year is seeing the wide eyes and warm smiles of passersby as they peek into my Chalet. I especially enjoy the expressions on the faces of so many friendly folks who have never seen my work when they discover it for the first time… when the happy Pittsburgh memories of good times with family and friends lift them up and make them smile.
Just last night there was an older woman who visited my booth with her great-nephew who had just come in from out of town. He was seeing Pittsburgh for the first time through his great-aunt's eyes, and she wanted to gift him with a unique memory of their special evening. One of my new soy candles caught her eye — "Skating Together at PPG Place" — as they had just come from watching the skaters at the PPG ice rink.
But then just as she was reaching for that candle, she noticed the one next to it, and her heart melted. When she saw "Ice Ball Treats with Gus and YiaYia", memories came rushing back to her from long ago of happy times as a young girl in West Park.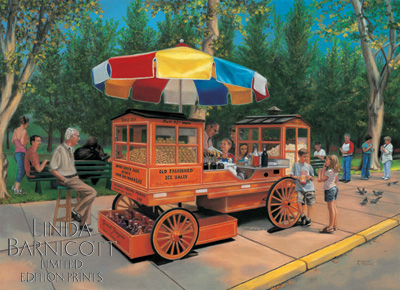 I've heard so many people tell their personal stories about the landmarks in my paintings, but what was really special about meeting this lady and her nephew was seeing the look of love in his eyes as he took it all in. As he listened to her reminiscing about her girlhood, I felt like he was capturing this moment and tucking it safely away in his heart. It reminded me of the magic of sharing memories between generations and how a simple painting can be so powerful.
Now as the holidays are truly upon us, I wish all of you the merriest and happiest of holidays from me and the entire Barnicott clan. Spread love wherever you go, and your New Year will be full of joy! Bless you all.
P.S. – It's not too late to come see me and get in on some last-minute shopping action… I'll be here in Market Square until Friday night, December 23rd, at 9:30. If you buy everything, I won't have to pack it up and take it home!
P.P.S. – In fulfillment of my grandmotherly duties, here's Aria meeting Santa for the first time!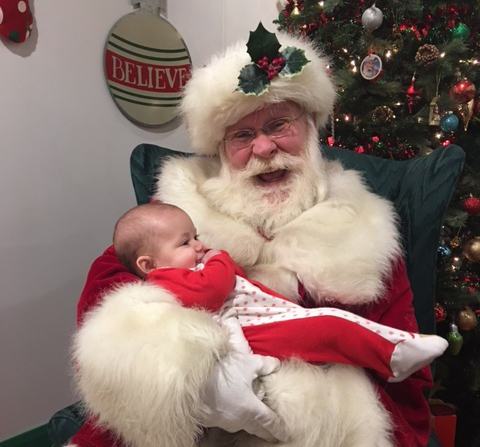 Make sure you are the first to know about all of my news, appearances and any "special deals" I am offering to my subscribers, by taking the time to sign up for my weekly newsletters now. CLICK HERE to sign up. You will also receive a FREE slideshow showing the step-by-step development of my painting, "Celebrating Time and Tradition at Macy's".