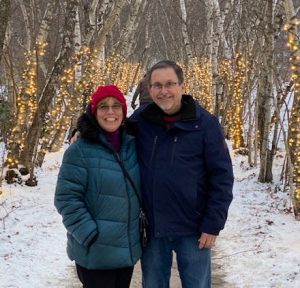 Happy New Year!
Here we are in 2023 with a whole new year ahead of us. I plan to do a lot of dreaming, planning, sketching, and painting. This year, I'll be creating both commission work and fun Pittsburgh-themed paintings, and who knows… maybe even a new Santa painting for the holidays? I can't wait to see what this year will bring.
Christmas Eve and Christmas Day were so beautiful this year! As you may know, the Holiday Market closed two days early because of the frigid weather. This gave us a couple of "bonus days" for more Christmas activities, and Tom and I have not slowed down since then.
Thanks to the extra time before Christmas, we were able to finish decorating, wrap all the gifts before Christmas Eve, and even go to two Christmas Eve church services. We actually had time to enjoy the glow of our Christmas tree and our decorations while listening to Christmas music, then wake up to watch our grandgirls open their gifts, followed by a wonderful holiday dinner.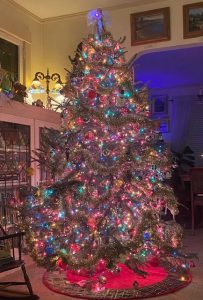 In the last few years with the Holiday Market, we haven't been home much in the five weeks prior to December 25th, and we miss out on a lot of holiday activities. So this year, we made a pledge that we were going to get out and make the most of all Twelve Days of Christmas!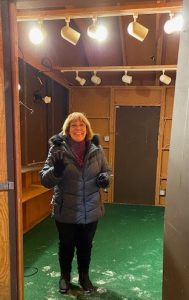 The next day, it was off to the races! On the 26th, we spent the day and night bringing home all my art and gift items from the Chalet. And then once we get it all home, the fun really begins – putting everything back in its place!  Cleaning up the chalet always feels bittersweet, knowing that the excitement of having my own store and hanging out with so many old and new friends is over (until next time!).
First stop in our travels was the Stan Hywet Hall & Gardens in Akron, Ohio – a highly recommended holiday attraction.  It was a fantastic experience seeing this fabulous mansion and its grounds all decked out for the holidays.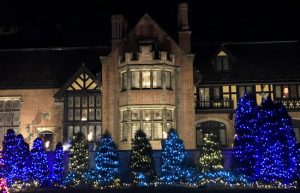 Next we were off to Phipps Conservatory and Botanical Garden here in Pittsburgh. So many visitors to my Chalet mentioned that after their visit to the Holiday Market, they were heading to Phipps to see the lights.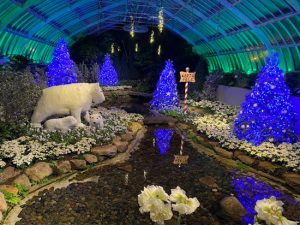 The next day, we met our best friends in Hershey to take in the Hershey Sweet Lights together.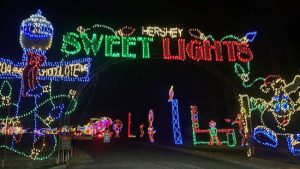 After driving home on Friday last week we had front row seats for dinner at Con Alma, a jazz club in downtown Pittsburgh.
Saturday night, we finished our whirlwind week at Dazzling Lights, a remarkable display of creativity and beauty at the Pittsburgh Botanic Garden on Pinkerton Run Rd.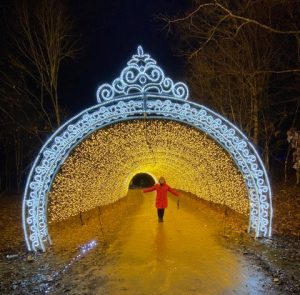 And of course, throughout the week, we've enjoyed driving around, seeing people's homes decorated for the holiday, and listening to the traditional music that truly means Christmas for us.
Now that it's over, of course I'll miss the excitement of gathering together with family and friends. But as Charles Dickens once wrote… "I will honor Christmas in my heart, and try to keep it all the year."
Thank you all who stopped by the Chalet this year and purchased my work or ordered by phone or online. I deeply appreciate your support and your fellowship.
May your new year be full of joy!