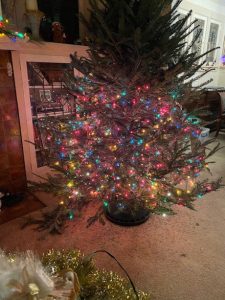 Right now, I'm sitting here taking a break from decking the halls at the Barnicott Studio and Art Gallery (aka my home). As we decorate and light our Christmas tree, I'm wondering (like I do every year!) how the season has passed by so quickly. I'm humming "Silent Night" and basking in Christmas joy.
This week was, in some ways, a tough one. I started to feel like I was in the movie "Groundhog Day" – like I was living the same day, over and over. And did I mention I was tired? I even woke up one morning and told Tom that I felt like I had "hit the wall," as runners say. But I know those feelings of being overwhelmed are just that… feelings.
Really, though, the holiday season is my favorite time of year. Visiting with the folks who come down and shop at my Chalet, helping those who have ordered online, and spreading holiday cheer brings me tremendous happiness.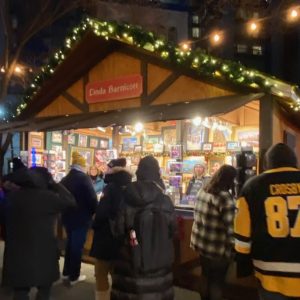 What I love best about the all-day/everyday part of the Holiday Market is looking into the eyes of the people on the other side of the counter and listening to their stories. It's talking to a customer on the phone and hearing their enthusiasm. Or working with someone through emails to get just the right gift for someone special. For me, Christmas is all about sharing kindness and creating/nurturing relationships, savoring the smells and tastes of the season, and feeling the fresh air (even when it's cold!). And most important of all, being together with those we love.
So although my tree is only half-done, presents still not wrapped, and no cookie-baking in my future, I am filled with pure delight thinking about my Chalet and friends old and new –including those I have yet to meet during this holiday season.
This week a dear friend of mine sent me a photo of how she displayed my painting, "Santa and the Greatest Gift." The print, beautifully and simply framed, is displayed on her kitchen counter. As soon as I saw this photo, I started humming "Silent Night" again!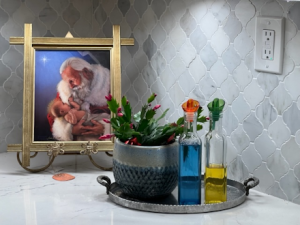 As we move into the final week before Christmas with all the hustle and bustle, I'm finishing up preparing my last mail orders. I'm still bringing new pieces to the Chalet every day to make sure shoppers can check off their gift lists for loved ones, co-workers, and friends.
If you're in town, stop by! I'd love to see you!
Have a great week and enjoy every moment. I know I will!