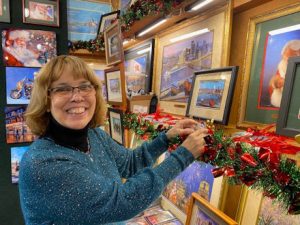 Happy Thanksgiving!
First off, I want to express from the bottom of my heart the gratitude I have for all of you. It's so fulfilling when I hear that you read my newsletters and follow me here and on social media. Being a minister's wife, community has always been so important to me. I just hope that my art – and my antics – bring you joy every now and then.
So to say "Thanks for Everything" this holiday weekend, I came up with some exclusive offers, just for you, my loyal readers. Because not everyone can make it downtown to see me, I'm offering specials for both in-person and online shoppers.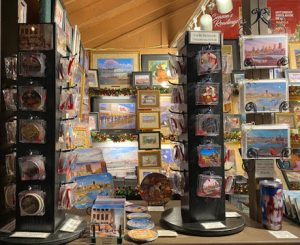 For Online Shoppers 
As you know, the cost of shipping has gone up considerably. Many times I've actually had to pay more than the shipping price listed on my site (but that's okay, because you're worth it!). So this Thanksgiving weekend I'm offering FREE SHIPPING for orders over $100.00.
I'll also include a little gift with your order – two free Christmas cards from my popular Santa Series (a $10.00 value) to send out to your loved ones or associates. Just use code THANKFUL22 at checkout.
Looking for a particular print, design, or gift item? Check out my website at www.lindabarnicott.com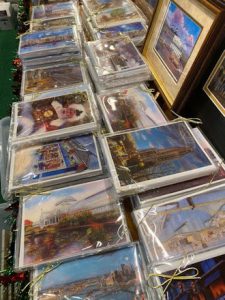 For In-Person Shoppers
Purchase any four color metal ornaments here at my Chalet, and you'll receive a fifth one free ($19.00 savings!). Also, for every two boxes of Holiday cards or note cards you purchase, you will receive an extra box free while supplies last ($24.00 savings)! Just show me this email to receive your gifts.
This Thanksgiving Gratitude Sale runs from Black Friday through Cyber Monday at midnight… Happy Shopping!
I have been blessed to be able to fully stock my color metal ornaments this season, with nearly 40 paintings to choose from. I'm so grateful to be able to share with you the abundance of gifts I have received. If you come down to the Holiday Market in Market Square this weekend, I would love the chance to thank you in person!
PS – Happy Thanksgiving from The Grandgirls!