Yes, it's too early for the first robin, and the days are still short and cold. But I'm feeling warmer already because last night I attended an event that to me is the "First Sign of Spring".
Every February for the last 20 years, I've attended a meeting for exhibitors at the Pittsburgh Home and Garden Show. I think I must be the only veteran of the show who actually turns up every year for this meeting! In fact, I've heard it so many times I could probably offer Executive Director John DeSantis some assistance in delivering the program. It's really intended for newbies exhibiting at the Home Show for the first time, but I attend every year because I find it so inspiring and energizing. Every year I get more great ideas on how to make the next show better than the last.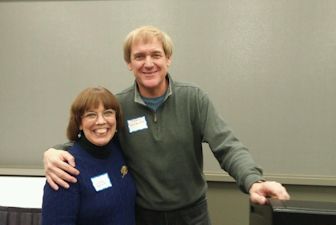 The show is located at the David L. Lawrence Convention Center and runs from Friday, March 6th until Sunday, March 15th. With over 10 acres of exhibits, this will be the biggest year ever! My booth will be in my usual spot (#3146-8) at the end of the aisle near the escalators.
I'm doing something new this year – a special wall featuring smaller giclees of many of my pieces. These are the very same prints I approved at the printers before the edition run. These are truly one-of-a-kind pieces, real artists' proofs, each one unique. They'll be available on a first-come, first-served basis, so be sure to come early in the show if you want to see them! Of course, as always, I'll have my full line of art and gifts that I'll be happy to personalize for you.
Because 2015 marks my 20th year as an exhibitor, I will be featuring some special offers and promotions to celebrate. Just follow my weekly emails for the latest and greatest. For my out-of-town friends, don't worry! I'll have an online special just for you… so stay tuned!
PS – There are only 3 spots left for my art classes next month, so don't delay! The class is a soft pastel workshop hosted at my studio in Bethel Park. Classes will begin on Monday, March 23rd and will run for 5 weeks from 7 to 9 pm, plus a half hour before and after for set-up and clean-up. The cost is $30.00 per class and a total of $150.00 for all 5 classes. There will be a makeup class on May 11th if you miss one. A list of required art supplies will be sent out a few weeks prior to class. Call me at 1-888-PITT-ART (1-888-748-8278) or email me at linda@lindabarnicott.com to register.
Make sure you are the first to know about all of my news, appearances and any "special deals" I am offering to my subscribers, by taking the time to sign up for my weekly newsletters now. CLICK HERE to sign up. You will also receive a FREE slideshow showing the step-by-step development of my painting, "Celebrating Time and Tradition at Macy's".