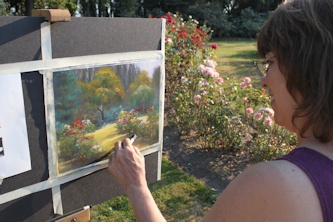 After my relaxing Florida vacation, I've had a busy week of catching up, and at last things are more or less back in order here in my studio. I have just a few more orders to fill, some loose ends to wrap up, and I'll be ready to jump back into creating new art and launching new projects. 2015 promises to be a very busy year full of exciting challenges and new and different paths to follow.
As I mentioned last week, I'm really excited about the Forbes Hospital history wall project. It's thrilling to take on a commission like this – so meaningful to the hospital and the community, and certainly on a grander scale than anything I've ever done. In the coming weeks, I'll be laying the groundwork for this very big (literally!) project.
I'm also beginning a new portrait commission. And later this year, I'm starting a completely new series of paintings… but you'll have to wait to hear the details!
Speaking of future projects, can you believe the Pittsburgh Home and Garden Show is just around the corner? It will be held at the Pittsburgh Convention Center, Downtown Pittsburgh March 6th thru the 15th. Yes, spring is coming!
So here's the big news I can't wait to share with you this week – In the spring (after I recover from the Home Show!), I will be offering art classes. The first class will be a group format and will run five weeks on Monday evenings from March 23rd to April 20th. Classes will be approximately two hours plus an extra half hour or so before and after for set-up and tear-down.
In these classes, you'll have the opportunity to draw and paint with soft pastels. It doesn't matter if you're a beginner to pastels (or if you've never painted anything other than an apartment), or if you're a veteran artist who would enjoy a fun and relaxing night out. We won't be painting "with a twist," but I can offer you some of the best tea, coffee and cocoa in town!
You decide what you want to paint – portraits or pets, landscapes or cityscapes… and I'll be there to help guide you through the entire creative process. n the first class, we'll all paint the same piece from photographs, but after that, you can bring your own resources or use some of mine. The cost for this introductory series will be $30.00 per class, and I'll provide you with a supply list so you can come prepared. I'll also have a Pastel Bar available if you need a color you don't have.
Class size will be limited. If you're interested, please call me (412-283-4072) or send me an email at info@lindabarnicott.com.
Make sure you are the first to know about all of my news, appearances and any "special deals" I am offering to my subscribers, by taking the time to sign up for my weekly newsletters now. CLICK HERE to sign up. You will also receive a FREE slideshow showing the step-by-step development of my painting, "Celebrating Time and Tradition at Macy's".