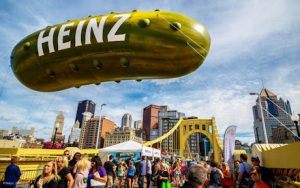 With my Forbes Hospital mural now in the hands of the printers and the originals at the framer, I'm finally free to turn my attention to new summer projects.
And just in time, a new opportunity has come along! I have been asked to consider painting a piece for Pittsburgh's annual Picklesburgh festival! Picklesburgh has been named America's #1 Specialty Food Festival. In fact, Picklesburgh 2019 will be double the size of last year's event to accommodate the huge crowds.
Picklesburgh will take place on July 26-28 on the Roberto Clemente Bridge and extending to the riverside lanes of Ft. Duquesne Blvd. I'm not sure exactly where I'll be located as of yet, but you will find me there somewhere, painting pickles! After focusing so long on the mural, I'm looking forward to doing something new and different.
In the meantime, I'm getting a head start on my pickle painting. Tomorrow I'll start on the underpainting, then I'll add pastel to an already sketched view from the Clemente Bridge. The composition I have planned uses the lines of the bridge to frame the crowd, and I'll be lighting up the sky with color (and pickles). I even have my candle supplier working on a crazy new scent for the occasion!
So mark your calendars for the last weekend in July, and come see me at Picklesburgh! I hear it's going to be a really big dill…
Now that Memorial Day is behind us, the Summer Solstice brings long, bright summer evenings, perfect for strolling neighborhood night markets. To kick off the season, you can find me downtown on Saturday for the year's first Night Market in Market Square. I'll be there from 5 to 10 pm. I'll even have a photo on my phone of the Picklesburgh painting's progress. Want to see it?  Just ask!
With Father's Day coming up next week, Saturday night would be a great time to visit me in Market Square to purchase a personalized gift of Pittsburgh. They're predicting perfect weather, so please stop by!
P.S. – Happy Father's Day from this happily retired grandfather!