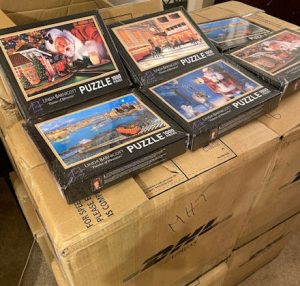 It's been quite an exciting week here at the Barnicott Gallery/Studio/Art Warehouse!
First, the much-anticipated art puzzles I was telling you about have arrived – just in time for my show at Bethel Presbyterian Church this Saturday in Bethel Park… not to mention the opening of the Holiday Market in Market Square in Downtown Pittsburgh on Friday, November 19th!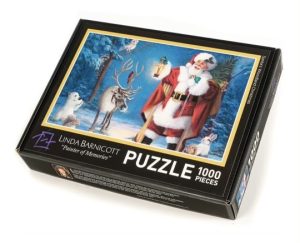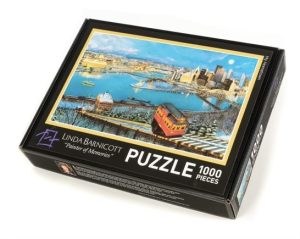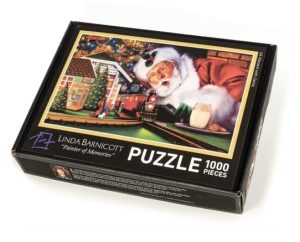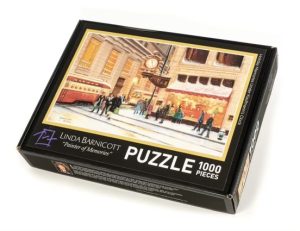 Four different paintings are available in puzzle form – "Santa's Woodland Christmas," "All Aboard with Santa," "Holiday Memories Under Kaufmann's Clock," and everyone's favorite, "My Hometown." Each puzzle is 1000 pieces and measures 20" x 28." They will make perfect gifts for the holidays!
For those of you who are already on the waiting list, your orders will be filled first. For everyone else, it's definitely better to order sooner rather than later – only a limited number of puzzles will be available this holiday season.
This year I'll also be offering several new cards on my website as part of my Note Card Bundle. Now there are even more options to collect note cards with familiar scenes that mean so much to you! Check out the full collection at https://lindabarnicott.com/product/notecard-bundle/
But wait… there's more!
Brand new postcards of eight of my paintings will be available for the first time at the Holiday Market. These aren't the note cards I've always had, but a new product – actual postal send-through-the-mail postcards! Every year at the Holiday Market, there are a few people who ask about postcards. I tell them I have note cards, but they just say "no thanks" and explain that they collect the postal kind, like the ones you send to family and friends when you're on vacation. I hated to disappoint them.
Then last month Tom and I returned to Ligonier for a fall outing, and Cindy from the Sweet Shop asked me if I had postcards of my painting "Silent Night in Ligonier." I immediately knew this was going to be my next project!
I'll have the puzzles and the new note cards and postcards at the Holiday Market, but please feel free to contact me over the phone or email if you're interested in any of the above.
Meanwhile, my home is starting to look like a warehouse as we gather everything together for the show. But I really don't mind; it's all part of being a working artist, and I love it!
Just a reminder – I will be selling out some of my product lines this season. This includes my 100% soy candles and all of my color metal pieces such as ornaments, coasters, and mint and sandwich trays. Bookmarks, keychains, and Santa plates are also being discontinued.
Selection is limited to existing stock, so if you think you might want any of these before they're gone forever, check them out on my website – it's now or never! www.lindabarnicott.com
I can't wait to play Santa's Helper this year and help you pick out some perfect gifts to make Christmas even merrier!