Her Artworks Help Others Reminisce
Pittsburgh Post-Gazette, January 30, 2002
Virginia Peden, freelance writer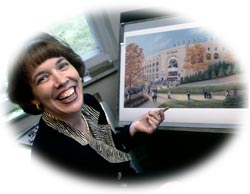 Linda Barnicott of Green Tree, long admired for her Pittsburgh landmark paintings, has pleased Pitt alumni and fans with her latest, "Game Day at Pitt Stadium," the first of a new series titled "Autumn in Oakland".She usually has a story to tell about her pastel renditions, and so it goes with her stadium drawing. She thought right after is was announced Pitt Stadium would be razed that there would be a lot of pictures of Three Rivers Stadium, but none of Pitt Stadium. Andrea Paganie of Ambridge suggested, during a visit to Barnicott's booth at the Home & Garden Show, that she could catch the anticipation of all the games.
"My family, and nine other people, posed for a picture to use as models in the painting," Barnicott said. "They were waving and cheering and it was snowing. There they were by the big hole where the stadium used to be. She photographed the Pittsburgh Panther Band another time and the leader Jack R. Anderson, supplied her with photos he had, as well as a uniform to copy.
Barnicott has the talent to bring life to her scenes. Looking at the left corner of the painting you can almost hear the band playing. "Lots of other people helped by sending photos," she said. "I finished the painting in October and the phone didn't stop ringing for two months." That included Christmas calls for the cards she does for the American Cancer Society, her Kennywood print series and other Downtown landmark prints.
Don De Blasio's Restaurant in Virginia Manor Shopping Center is a client and fan who owns several of Barnicott's paintings. The stadium rendering particularly drew his interest, because he has been a spotter for Bill Hillgrove at the Panthers games since 1978. "I have a small print and a large one," he said. "I believe Linda has great talent and her personality comes out in her paintings."
Barnicott has a limited edition of the Pitt Stadium painting in a new Giclée process done with pigmented archival paper that is supposed to last 200 years. "It's not only a print, but is enhanced by me," she said. "It has the essence of an original pastel. There are 150 of this edition and they sell for $400 apiece. The original painting is $7,000." She also has 900 of the signed, numbered edition, 100 of the artist proof edition, and note cards.
Her paintings are in 55 Western Pennsylvania and Ohio galleries, she has exhibits, and will be at Booth 444 at the Home & Garden Show at the David L. Lawrence Convention Center March 8-17, 2002, with a new Kennywood poster. She works in her home studio, where the phone number is 412-921-2388.
"I like to paint nostalgia," she said. "So many people reminisce when they see my work. It makes them happy. Its my way of reaching people."