"The Phantom of Lost Kennywood" Latest in Series by Linda Barnicott
Green Tree Times , July, 2001
by Sarah Zablotsky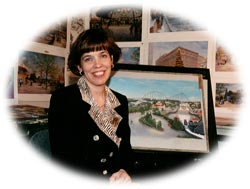 The beige carpet in Linda Barnicott's Green Tree studio is streaked with the colors of her pastel collection. An easel holding an unfinished work sits in the corner under a portrait of her father. But it is Barnicott's vivid scenes of Pittsburgh and Kennywood hanging on the wall that immediately attract the visitor's attention. "I like doing a painting where people get lost in it. They can look at it, walk away, and then come back and look at it again, " she said.
That is the exact effect that Linda has created in latest work, "The Phantom of Lost Kennywood". Part of "The Wonder of Kennywood" series, the new scene is a view of the park from atop the Pittsburgh Plunge. The Steel Phantom is shown in its original form with Lost Kennywood in the foreground. The Edgar Thompson Works and the Westinghouse Bridge are seen in the background.
"I do a lot for the sake of composition. Sometimes I don't know why I do things in a painting. It's so inbred," she said
Linda first began her portraits of Pittsburgh in 1989 when she painted the now famous "Meet Me Under Kaufmann's Clock". She began painting Kennywood scenes in 1995. For all of her works, Linda begins with photographs of her subject matter, in this case, the Phantom's original loops. "I was in a cherry picker 60 feet up taking pictures. It was the only way to do it." She said.
From the pictured, Linda slightly arranges objects until she finds the right composition. "Because I work with chalk and pastels, I can't paint outside. I work with the composition I like best," she said.
The artist credits her ability to create memory triggering scenes with her experience in sketching personal portraits. She has heard many stories from those touched by her work and over the years has accumulated files of the cards and letters that she has received. Linda said that she keeps them all. "I used to do one portrait for one family. Now I do a portrait for a thousand families or several thousand families." She said.
Linda is also known for her scenes of Pittsburgh which have appeared in the American Cancer Society's Holiday Print Series. Her 2001 sketch is still untitled but will be finished in July. It will depict Grant Street at Christmas with the USX building and a streetcar in the background.
Linda lives in Green Tree with her husband and two daughters. She will be at Kennywood during Victorian Days, June 29 to July 5, to autograph copies of her works. She plans to continue painting Kennywood scenes, possibly a series of vignettes. "I've heard so many stories about great memories people have about the park," she said. "I like that I'm able to paint memories for people."