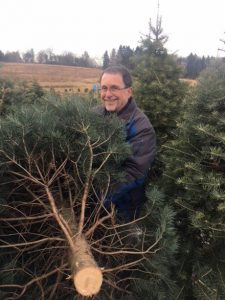 Can you believe Christmas Eve is only 9 days from now? Before we know it, Santa's Big Event will be upon us.
Somehow despite our hectic pre-Christmas busy-ness, Tom and I managed to schedule a day to play hooky from the Chalet down in Market Square to indulge in a festive new tradition – cutting down our own Christmas tree.
We decided to try cutting down our own tree for the first time last year. It was really pretty, but we thought it was maybe a little too small. So this year, of course, we had to overcompensate, and perhaps we overdid it a bit.
We had to cut a whole foot off the bottom and trim the top, but we finally got it to fit. Now we can sit back and enjoy the beauty of our tree as well as the satisfaction of a job well done. All is right with the world!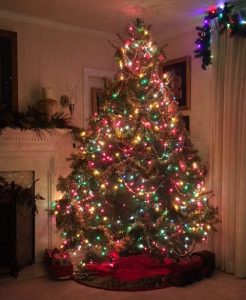 Isn't shopping for the holidays a little like that?
First, you have to find the time to go shopping. And then it seems so intimidating… such a large task! We'll never get it done! So you buy a little here, a little there – and then all of a sudden, you're finished. Once that's off your plate, you're entitled to just sit back and enjoy the holiday beauty all around you, guilt-free.
I would be happy to help you achieve that state of holiday bliss that comes when you know your shopping is finished! My art and giftware make unique and personal gifts for everyone on your list. I'll even personally sign each and every gift for your loved ones. White elephant gifts, office ornament exchanges, and special gifts are my forte!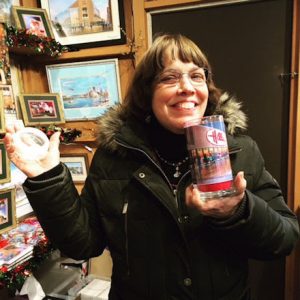 I have tons of ideas for you. I'll be at my Chalet every day for the next nine days. And if you're up for a Sunday drive this weekend, I'll be at Wendell August Forge in Grove City from 11-3 signing my work there.
I ho-ho-hope to see you soon!