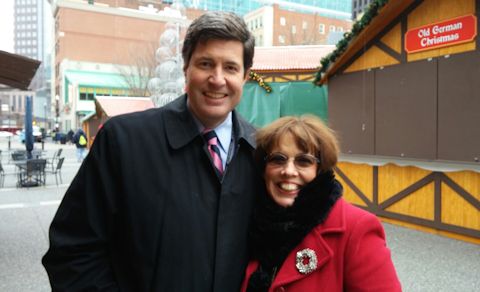 Time flies, and I here I am down at the Holiday Market in Market Square as we go into our final week. We close up shop on December 23rd, just in time to spend the holidays with family and friends. And not a moment too soon… I've been teasing Tom that he'll need to reintroduce me as the minister's wife when I return to our new church on Christmas!
Today I opened early at the chalet so I could be interviewed by KDKA's Jon Burnett for the show Pittsburgh Live Today. It was a great interview and really showed off my art to its best advantage! Then after Jon and I were finished, I was interviewed by Rick Dayton for the KDKA Noon News. It was quite an ego boost to see myself on the news twice in one day!
One of my favorite parts of the interview was sharing what a wonderful asset the Holiday Market has been for our Pittsburgh community and what a unique and festive attraction it is for local families and for visitors to our city from all across the country, and even around the world!
This has been my third year at the Holiday Market, and I think it's the best one yet! I've had happy reunions with old friends and made many new ones. If you haven't had the opportunity to experience Santa's House and the many beautiful and festive chalets with holiday merchandise from many lands, hurry on down to Market Square… and don't forget to drop by and say hello! I'll have just what you need for that perfect Pittsburgh gift!
Wishing a happy holiday to you and yours!
Make sure you are the first to know about all of my holiday appearances and any "special deals" I am offering to my subscribers, by taking the time to sign up for my weekly newsletters now. CLICK HERE to sign up. You will also receive a FREE slideshow showing the step-by-step development of my painting, "Celebrating Time and Tradition at Macy's".