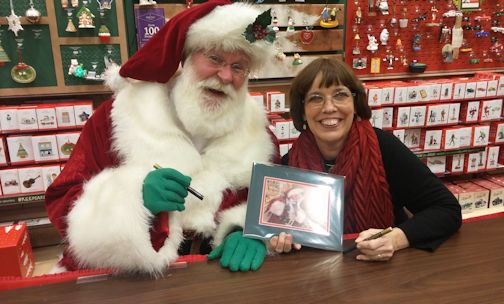 Hi, it's Linda… Writing to you today once again live from my Chalet downtown at the Holiday Market in Market Square.
I know I spend most of my time between Light-Up Night and Christmas down here, but I'm delighted to get a lot of visitors at my little Chalet, and I do get out and about a little bit!
For example, I've been seen around town lately with a major celebrity – Santa himself! The paparazzi are having a field day! Just yesterday, Laurie's Hallmark invited the Jolly Old Elf and me to appear at their store at Fifth Avenue Place. As always, Santa was his usual charming self, Ho-Ho-Ho-ing it up with all the customers. He also graciously posed for free selfies and signed my giftware and prints with his special Santa signature! It was a fun time for everyone.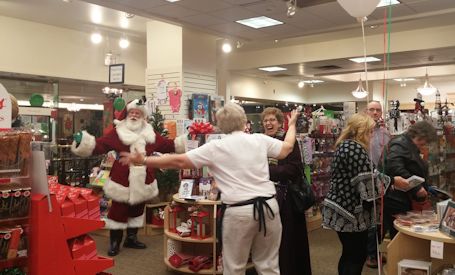 And because I'm his favorite artist, Santa stops by my Chalet every day to say hi before he magically appears in the Santa House in Market Square. Come down and have your picture taken with Santa and buy one of my prints. After all, if you have a picture of you sitting on his lap in the Santa House, and you have a painting of him on your wall, that's scientific proof that he's the REAL Santa… right?
Here are the times that Santa will be holding court in Market Square in the coming week:
Saturday, December 5 – 4 to 8 pm
Sunday, December 6 – 12 to 3 pm
Monday, December 7 – 4 to 7 pm
Tuesday, December 8 – 4 to 7 pm
Wednesday, December 9 – 12 to 3 pm
Thursday, December 10 – 4 to 7 pm
And I'll be at my Chalet every day from 11 am to 8 pm on Mondays through Thursdays, from 11 am to 9:30 pm on Fridays and Saturdays, and from 11 am to 6 pm on Sundays right up until December 23rd!
I would love to see you there… and you might even get to meet a celebrity!
Best to you and Happy Holidays,
P.S. – Don't forget to order your "Shhhh!" Christmas Cards available in the Note Cards for Sale section of this site. The message inside reads "It is no secret you will have a Magical Christmas!" And there's a sweet story on the back of every card! The cards are 7″ x 5," packaged in boxes of eight for $24.00. Quantities are limited and they are selling fast so order yours today!
Make sure you are the first to know about all of my news, appearances and any "special deals" I am offering to my subscribers, by taking the time to sign up for my weekly newsletters now. CLICK HERE to sign up. You will also receive a FREE slideshow showing the step-by-step development of my painting, "Celebrating Time and Tradition at Macy's".