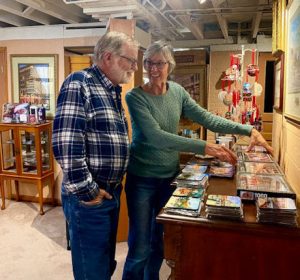 Well, I finally did it! I have officially set up my store in my Home Studio. I've created a display of all my fun gift items and my prints around a well-lit area right next to my painting space. So now when you stop by, you can shop and also see the latest project I'm working on. Visits will still need to be scheduled in advance to make sure you don't arrive to an empty studio if I'm out gardening, shopping, or at a show.
To make an appointment, just call me at 888-748-8278 (it rings through to my cell phone). A visit can be set up for morning, noon, or even night… I'm happy to be at your service!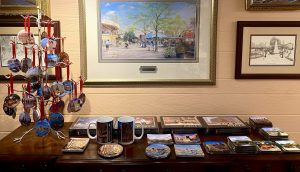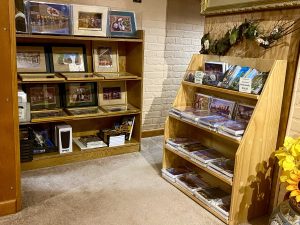 Finding the perfect little gift for someone can be hard sometimes. A nice, warm, fuzzy, nostalgic memory with a very personal touch just might be the answer! So I hope you'll think of me when you're deciding on a unique gift for someone special.
Last week, a favorite artist friend of mine was in a customer's home to paint a mural, and she sent me a photo of her client's "Kennywood Wall." It was fun for her to see it and quite an honor for me to receive her text. Creating your own Pittsburgh room, amusement park room, or even a year-round Santa room can be fun! It just so happens that I have original paintings, prints, mugs, and coasters that can help you make that dream come true.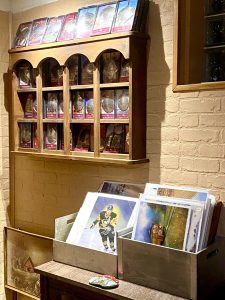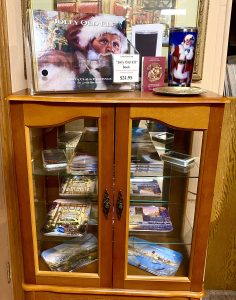 Now while I have your attention… may I ask a small favor?  I am currently looking for any and all photos of the old Gimbels Department Store at Sixth and Smithfield in Downtown Pittsburgh. Why didn't I paint it 20 years ago? I don't know, but finally its time has come! I have some pretty good photos to start with, but I could use a lot more. Specific areas that I really need to get a better look at include under the main-entrance awning with the steps heading down to Gimbels Basement (otherwise, I might have to put a in a streetcar to cover that area!). Also, photos featuring Gimbels display windows would also come in handy.
Do you have a personal story about Gimbels? I'd love to hear it! My favorite memory was from the early 1980s. I was a newcomer to Pittsburgh, having just gotten married in 1980. Tom and I would often come downtown to shop, making the rounds of the Big Three stores – Horne's, Kaufmann's, and Gimbels – but Gimbels had the best art department, and I always made sure to stop there to shop for paper and pencils.
Gimbels, sadly, is long gone, and I was never able to create a painting of it because I didn't have access to good photos. Now I have a few and could probably piece it together… but I sure would appreciate it if you could help me out.
So, thanks in advance, and have a great week!
And don't forget to give me a call if you're in need a gift!