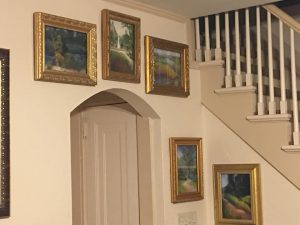 As many of you know, moving into our new home has been quite a long and complicated project. Finally all the furniture and clothing and pots and pans are in the new space. But as an artist, a house doesn't really feel like home to me as long as there are empty walls, and my pictures are sitting stacked up in a corner, hiding their inner beauty.
The thought of hanging all those paintings is very daunting – much more so than when we moved into any of our previous homes.
That's because Tom and I have always lived in homes provided by the church, usually "midcentury" homes that were built in the 50s and 60s, and the style at that time was boxy with plenty of wall space. This house, on the other hand, is a beautiful pre-war (built in 1935) brick home with built-in bookcases, fireplaces, and stained glass windows. And speaking of windows, there are so many in this house that for the first time in our lives, we didn't have enough wall space!
When we were first married, the lack of wall space didn't matter so much because most of my work at that time was painting portraits. Those commissions went home with the customer, and we had little artwork of mine to hang. All we had on our walls back then were things we won from Kennywood (which we have lovingly kept all these years and still hang on our walls).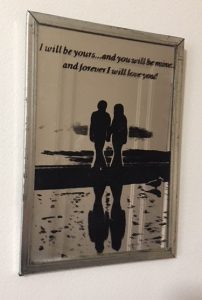 But now it's a different story… some might even say I've painted too much! Even counting all the originals I've sold over the years, there are more than enough paintings to hang and enough to occupy every spare inch of wall space.
So where to begin?
Well, remember this guy (my favorite model)?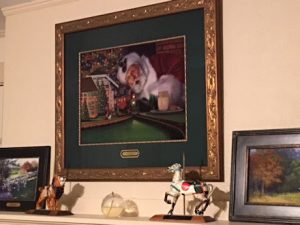 Lucky for us, he just happened to be passing through Pittsburgh and stopped by the house to lend me a hand. Of course, he's really good with tools – after all, toy-making is his specialty. It was definitely the best (and earliest) Christmas gift ever.
With his help, Tom and I were able to hang each and every one of my paintings! When he was done, it felt just like Christmas all over again. Ever since then, as I walk around my home, I can't help but smile. It's amazing how much more it feels like home when surrounded by my art with everything in its place.
However, now I have a new problem… I've used every last bit of available space, so I guess now I'll have to sell a few more originals before I can paint more. Can you help me out?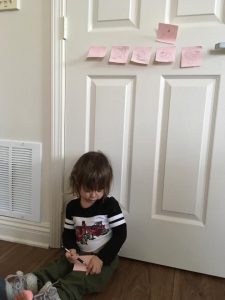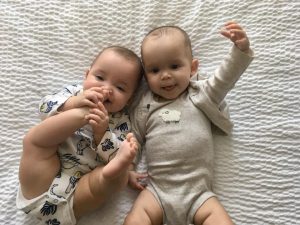 Finally, here's a little update on the GrandGirls. As you can see Aria has been watching Grandma and Grandpa, and she's creating her own artworks to deck the walls!