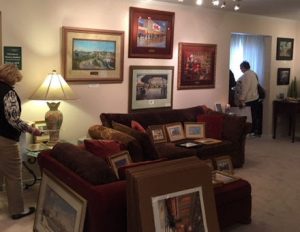 Today I'm at the Giant Oaks Garden Club's "A Victorian Tinsel Christmas," and I'm taking advantage of a little break in the action to sit down for a bit, catch my breath, and write a quick note to you.
I'm still playing catch up after last week's very successful – and very fun! – Trunk Show and Studio Open House.
The folks who came by really seemed to enjoy both the evening and the daytime events. I'm very grateful for everyone who showed up and for the opportunity to spend time just hanging out and talking with everyone.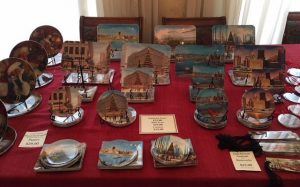 In fact, the event was so successful (and so much fun) that I believe I may make it an annual thing! So look for the Second Annual Trunk Show and Open House event next year at our new home/studio in Brentwood.
Tomorrow, Tom and I will be doing our "divide and conquer" strategy again – I'll be spending the day at John McMillan Presbyterian Church (875 Clifton Rd, Bethel Park, PA 15102), and Tom will be representing me at Christ United Methodist Church on Highland Road in Bethel Park.
Please stop by and see one of us (or maybe even both of us?) and kickstart your holiday shopping with a special gift.