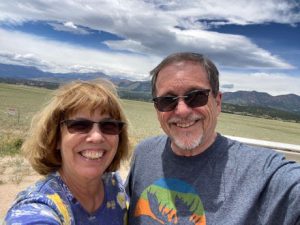 Tom and I finally made it to Albuquerque this week, and I must say we have driven through some amazing countryside! We love the big skies, the beautiful clouds, and dramatic sunsets, not to mention the many nice people we've met in our travels.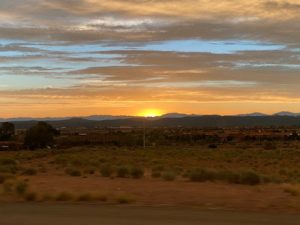 We arrived in Albuquerque on Sunday night, though my workshops didn't start until Wednesday. Five years ago, the last time I attended the IAPS conference for pastel artists, I visited the Los Poblanos lavender farm and took some fantastic photographs from their property. This piece was inspired by that visit. I spent about three hours getting it started, and I'll finish it in my studio back home in Pittsburgh.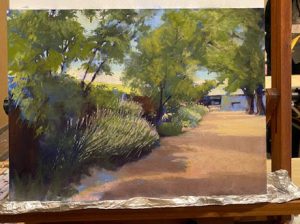 It was nice having Tom around to help carry my materials (of course, I overpacked!) to and from the workshop room. He also had to run out for 70% rubbing alcohol for my underpainting. I'm one lucky lady to have such an excellent "assistant!"
For the next three days, I'll be taking more workshops with some incredible artists. Just being here is so inspiring… I can feel the creativity flowing through my veins!
Also, later today the "Candy Store" (where all the pastel vendors come with their homemade pastels and supplies for sale) will open for all of us to buy lots of goodies! Pastel artists can't help themselves – they have to bring home some new colors! As they say on Star Trek, "Resistance is futile."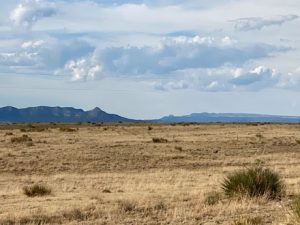 After the workshop is over, Tom and I will be traveling home through more stunning landscapes (also known as "potential paintings"). Keep reading to follow our journey!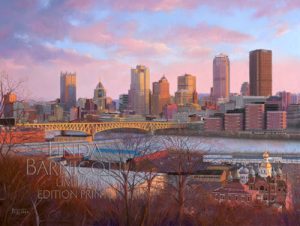 P.S. – Don't forget to pre-order my new print, "Pittsburgh at First Light" before its release date of September 1st to receive 15% off the purchase price. Just enter the code FIRSTLIGHT15 when you check out. Click Here to Pre-Order!