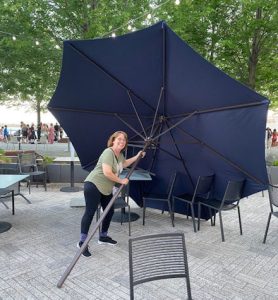 I'm writing to you from the road as Tom and I are traveling out west for a painting trip. Instead of just flying into Albuquerque, we decided to make it a long-overdue official road trip!
Our first stop was Chicago and the Navy Pier. We arrived just in time to watch a spectacular sunset over this amazing city. Chicago, I never realized how beautiful your skyscrapers are… I'd better not stay too long, or I just might have to paint you!
Preparing for our journey, I spent a couple weeks getting all my supplies together for the pastel conference in Albuquerque. Being a studio painter and having a couple of thousand pastels at my fingertips, my biggest concern was choosing my 320 favorite pastels (harder than you might think!), cleaning each one, and then putting them in a working order in my new pastel box.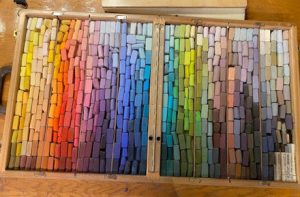 They do look pretty, don't they? Sometimes it's hard to imagine that when you put those sticks to paper you can create a 2-D version of a 3-D memory!
When I created my new painting, "Pittsburgh at First Light," I also used five different styles of pastel pencils to get the fine lines and detail I needed for the city buildings. If you look carefully at the very top of a few of those skyscrapers, you can see even smaller marks that I made using a colored pencil to create the delicate lines.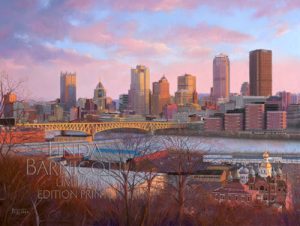 I now have a pre-order page on my website where you can claim your own limited-edition print in advance of its official release on September 1, 2022. Until then, I'm offering a special price to my loyal subscribers. Just visit my website, https://lindabarnicott.com/product/pittsburgh-at-first-light/ and enter the code FIRSTLIGHT15 to preorder your print for 15% off the regular price.
Order yours now and save!
Want to watch me create the painting from start to finish? Follow this link:
The Making of Linda Barnicott's "Pittsburgh at First Light"
Until next week from somewhere out west!
Best always,
Linda
P.S. – I'm going to have a number of new products that will be here in time for the Fall 2022 season. Some of them will be quite useful, some will be decorative, and others just for fun.
As we were packing for our trip, Tom called upstairs, asking if I was expecting a small package. Scratching my head, I went downstairs to find him holding a thin bag from a printer. We opened the package, and it was my first new product sample. I was so excited, I just had to take a picture for you!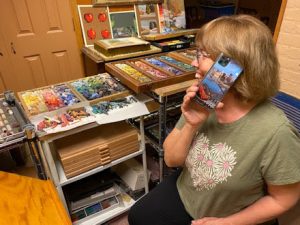 Eventually, you'll be able to order a phone case for your specific phone size. "My Hometown" is the first painting that will be represented on the new products, but we'll definitely be adding a few other paintings for each new item.
I would love to hear your thoughts on this first sample!