Summer is here at last, and this week I dusted off my booth for my first outdoor show of the season, the Shadyside Arts Festival. (The festival has added a new Spring show in addition to their original August festival.) Despite a dire rainy forecast, we managed to stay dry up until the last 5 minutes. Then as we were loading up the van to come home, the heavens opened and sent buckets of rain!
My favorite part of the Festival was getting to meet up in person with some of my friends and fans. My second favorite part, of course, was taking orders for my new painting, "Shhhh!" – the first of five paintings from my new "Jolly Old Elf" series.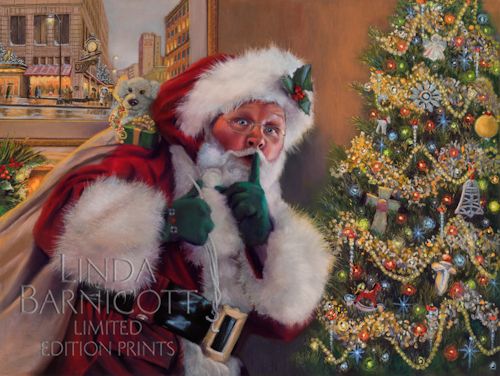 One rule at the Shadyside festival is that our booths must include a certain number of original paintings. I worry a lot about that because my pastel paintings take me months to complete and could easily be irreparably damaged by bad weather.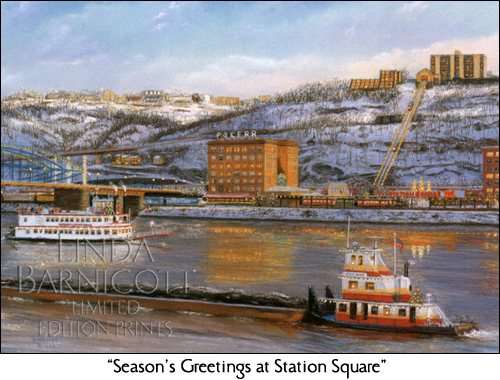 However, this time I'm glad I took the chance, because I sold another one of my originals at the Festival! The client bought the original of "Season's Greetings at Station Square" as a gift for her father, who is a collector of paintings depicting old Pittsburgh. He also works in the coal industry, which is why this painting – the only one of my Pittsburgh series that shows a river with a coal barge on it, front and center! – was perfect for her father. This was a match that was definitely meant to be, because interestingly enough, I only brought the Station Square original with me as a last-minute substitute for another painting.
It was a sensational moment at an art fair, and I'm very grateful to have found a wonderful home for one of my originals. In fact, I've sold eight original pastel paintings since January, and I feel blessed that they've all gone to good homes. My next challenge is to paint something new to put on that empty space in my wall… so I guess it's time to get back to the studio!
PS – I'll be exhibiting for the first time at the Three Rivers Arts Festival downtown on June 13 and 14. Hope to see you there! Check my calendar for more details
Make sure you are the first to know about all of my news, appearances and any "special deals" I am offering to my subscribers, by taking the time to sign up for my weekly newsletters now. CLICK HERE to sign up. You will also receive a FREE slideshow showing the step-by-step development of my painting, "Celebrating Time and Tradition at Macy's".