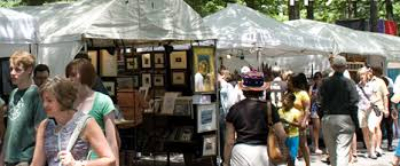 It's been quite a week here at Linda Barnicott Studios! Not only have I been putting in a lot of studio time working on the Oakland Catholic commission, but I've also spent hours and hours this week huddled over my computer keyboard, updating my official bio.
My bio needed some work for three reasons: One, my website was in need of an update; two, I needed a current bio for my new catalog coming out in July; and three, for a national press release that went out this week to 218 media spots across the country! This was the first wave of publicity to promote painting number one in my new Jolly Old Elf series – "Shhhh!"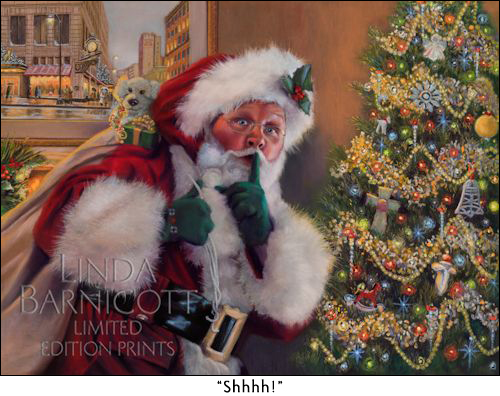 Last night I finished the printing changes on "Shhhh!", making the print as close to the original as it can possibly be. Also, the work has been completed that was needed to start the ornament process, and soon we'll start creating magnets and Christmas cards for the upcoming holiday season. The list of Retail Galleries and Gift Stores have been updated. Click here to see the updated list. And I've already pre-sold several prints and a few collections to galleries and customers!
Then just yesterday I brought the original pastel painting to my framer, Courtney-Laughlin Frame Studio and Gallery in Beaver, to finish the framing for its new owner, Father Yagesh.
Finally, I've been signing, enhancing, and packaging the prints for the Three Rivers Arts Festival on Saturday and Sunday…
And speaking of the Arts Festival, come see me this weekend at Booth #130! I'll have a ton of original paintings there – more originals, in fact, than I will leave behind in my home and studio! As usual, I'll also have bins full of prints – any of which could make a great Father's Day gift for your dad… or your grandpa… or your uncle, brother, or cousin. Or maybe even a very good friend?
Also, if you would like a low number for my new Jolly Old Elf series, stop by and get yours this weekend where you can see it firsthand!
The show starts at noon and ends at 8 p.m. both days. My booth is located on Penn Avenue near Three Gateway Center. Hope to see you there! Check my calendar for more details
Make sure you are the first to know about all of my news, appearances and any "special deals" I am offering to my subscribers, by taking the time to sign up for my weekly newsletters now. CLICK HERE to sign up. You will also receive a FREE slideshow showing the step-by-step development of my painting, "Celebrating Time and Tradition at Macy's".