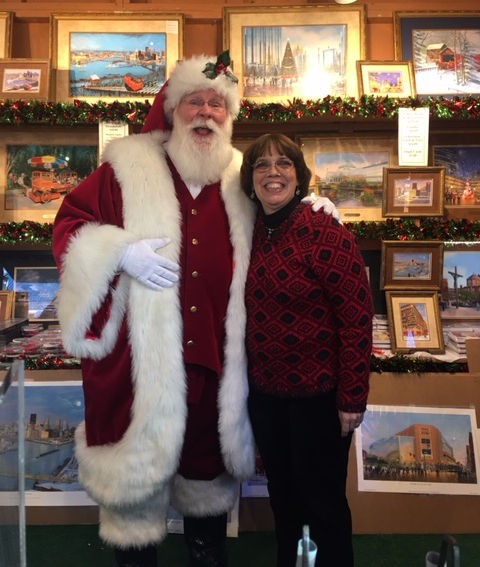 No snow yet, but it's definitely beginning to look a lot like Christmas in Market Square – especially at the fabulous Linda Barnicott Double-Wide Chalet!
My first special visitor this week was Santa himself, who took a break from his busy seasonal schedule to stop by, admire his paintings, and wish me a Merry Christmas!
Santa loves my newest painting in the Jolly Old Elf series, "All Aboard with Santa." He says it makes him feel like a kid again!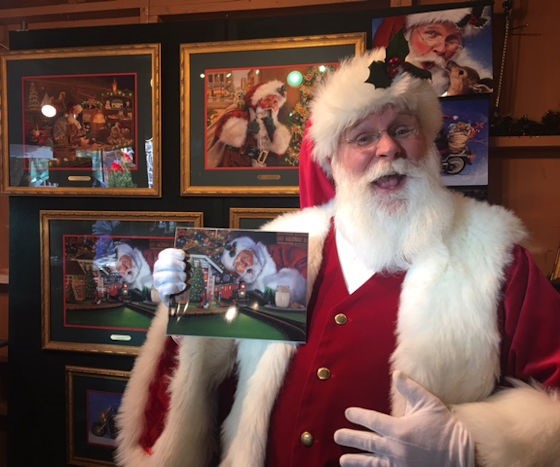 "All Aboard with Santa" is available as a limited edition giclee print, but it also comes in all sorts of giftware as well, including mini prints, Christmas cards, an ornament, and a magnet.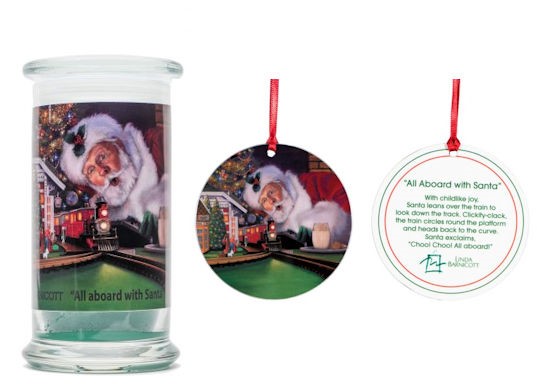 And Santa wasn't my only special visitor this week!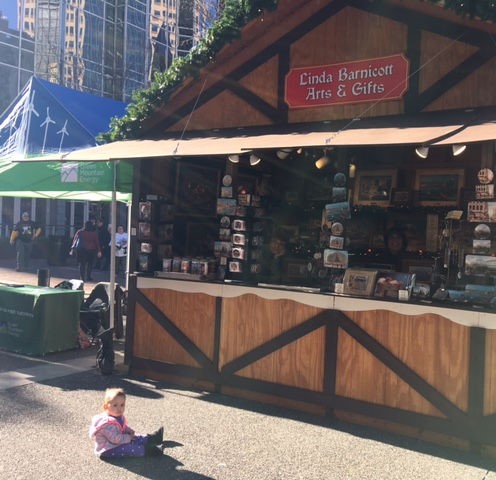 Aria, my littlest helper, stopped by to see if she could give Grandma a hand. She looks very small next to my super-sized chalet! I'm so glad I upgraded to the Double-Wide this year. I love having all this extra space – not only do we have room to move around, but we have double the inventory to show you.
So if you come visit me at my Market Square Chalet, you'll find plenty of holiday art and gift ideas to choose from. If you happen to be downtown or have the opportunity to stop by, I would love to see you and wish you the best for the holidays.
And while you're in town, take a detour over to the Heinz History Center and see their gorgeous new holiday exhibit, "A Very Merry Pittsburgh." It's a delightful walk down Memory Lane that reminds us of Kaufmann's dazzling holiday display windows and many other wonderful Pittsburgh holiday traditions of years gone by. I am thrilled and honored to see that they're using my painting to promote the exhibit.
Can't make it to Market Square? That's okay – you can shop on your own schedule at my beautiful new website.