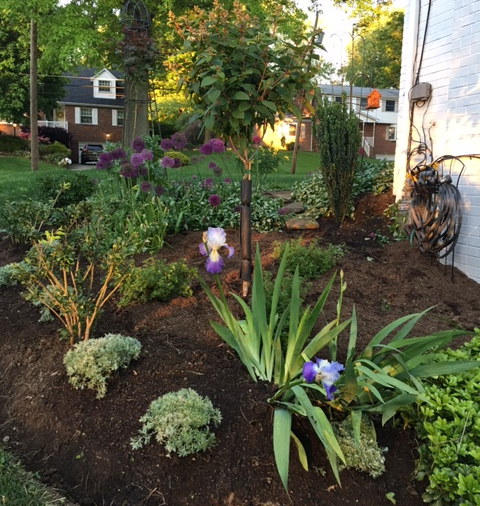 I'm sorry I missed writing to all of you last week. My father-in-law has been very ill, and we've been focused on trying to get him the best care possible. It has been a quite a struggle, but I'm happy to say he is now in good hands and responding well to his new medication.
Of course, making it to age 90 is already beating the odds, and we know we have been very blessed to have him with us for so long. His recent health problems, however, have been very severe. For a while, we weren't sure he would make it. But after a number of false starts and setbacks, it looks like he's finally on the right path. Our family is very grateful for all the dedicated and talented doctors and nurses at Shadyside Hospital.
So things have finally started to settle down, which means I was finally able to get back to my painting… but first, I decided to create some art outdoors by painting my yard with flowers! Gardening is another way that I use my artist's eye, designing the composition of my "canvas" and using different kinds of plants and landscaping elements to create form and color. It's a lot like building a painting from start to finish, and digging in the dirt is way better than therapy – cheaper, too!
Not only am I painting with flowers this week, but I'm back to painting in my studio as well. I've been trying extra-hard to get re-focused on my work, and as a result, I was able to finish "All Aboard with Santa!" This painting, the third one in the "Jolly Old Elf" series, will be available in time for Christmas in July.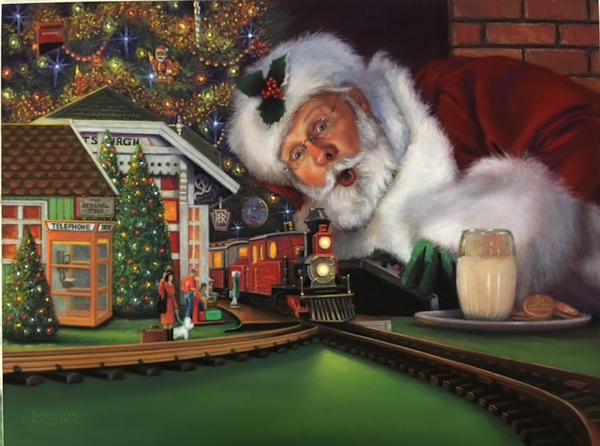 Stay tuned for more details, including a behind-the-scenes look at the making of "All Aboard with Santa" and the backstory about the painting from Santa himself!
Come on down to Market Square on Saturday night, May 27th, and visit me at the Pittsburgh Downtown Partnership Night Market from 5:00 PM to 10:00 PM. You can find me in my white tent, selling mostly giftware items and some prints. This is a great opportunity to purchase art to use as gifts for so many occasions. And as always, I'm happy to sign and personalize your gift of art!
My website is getting an all-new makeover, so not all of my new giftware is available online yet. But I'll be fully stocked at the Night Market on Saturday with a number of new pieces as well, so come down and say hello!
P.S. – A gift from Linda Barnicott Art & Gifts is perfect for Holiday giving (Christmas, Valentine's Day, Mother's or Father's Day, etc.), but can you think of any other occasions? How about…
Birthdays
Anniversaries
Graduations
Weddings, Favors, Wedding Party
Employee Appreciation
Client Appreciation
Sales Awards (can be customized)
Office Decorating
Home Decorating
Housewarming
Souvenirs from Pittsburgh
"I miss you" from Pittsburgh!
Make sure you are the first to know about all of my news, appearances and any "special deals" I am offering to my subscribers, by taking the time to sign up for my weekly newsletters now. CLICK HERE to sign up. You will also receive a FREE slideshow showing the step-by-step development of my painting, "Celebrating Time and Tradition at Macy's".