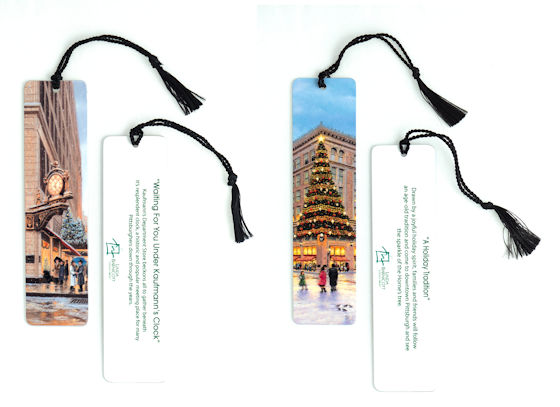 What beautiful weather we're having! It's been more like summer for the last week, though it's now turning a little more brisk and Fall-like. But I really don't need to follow the weather forecast…  my schedule of shows tells me the holidays are at hand!
The show at Fort Ligonier Days was even better than I had hoped. So many folks came out to enjoy the festival and picked up a few pieces of art for loved ones or as treats for themselves. I greatly appreciate all of you – thank you for supporting your friendly neighborhood artist!
If you're wondering what's hot lately when it comes to what's selling at my shows…
One of my favorite new products is my bookmark collection. Currently, there are six of them – you can see them all on my new updated website https://lindabarnicott.com/product-category/bookmarks/
As far as prints, two of my bestsellers are "Waiting for You under Kaufmann's Clock" and "A Holiday Tradition." The stories folks share with me about their memories of meeting under Kaufmann's Clock and shopping at Horne's Department Store always make me happy inside.
The bookmarks are individually hand-crafted by Wendell August Forge and are made of scratch-resistant aluminum. They're lightweight but will not break, so they can be easily shipped as a gift to someone special – a perfect gift for an avid reader, and it will remind them of a treasured memory.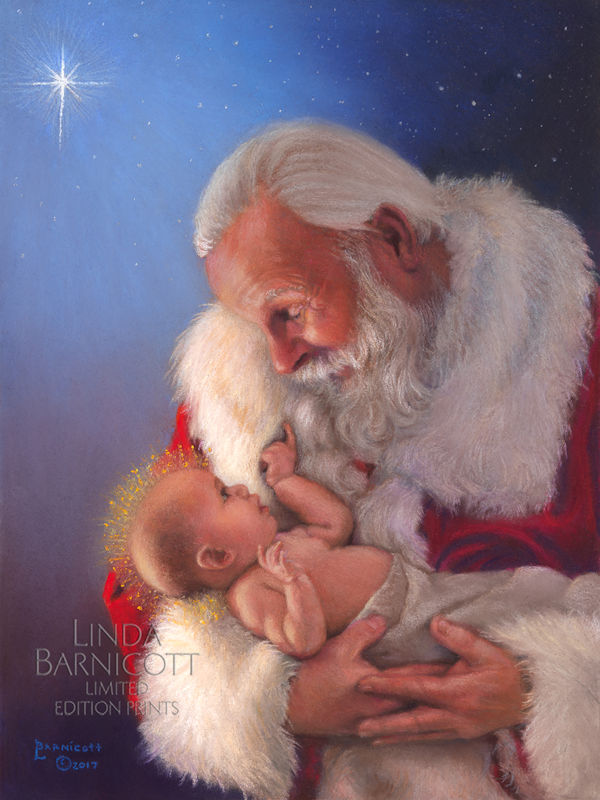 What has really been taking my shows by storm is the latest painting in my Jolly Old Elf series, "Santa and the Greatest Gift." Of course, you may already know why this painting has an extra-special meaning for me and my family. My granddaughter Aria was the model for the child in Santa's arms representing baby Jesus.  Aria was 4 months old at the time, the perfect age to pose with Santa for our photo shoot in January.
I'm just blown away by the response I've had to this painting. Last weekend at Fort Ligonier Days, a few people even told me that the painting gave them shivers up and down their spines (I believe they meant that in a good way!). Many of them purchased a print because a family member or friend was having a baby, and it seemed like a perfect gift. Others told me it was going into a special place in their home.
This weekend I'll be setting up once again for the Night Market in Downtown Pittsburgh at Market Square from 5 to 10 p.m. on Saturday, October 21st. I'll have lots of my smaller items with me, including the bookmarks and of course, "Santa and the Greatest Gift." Stop by and check it out!