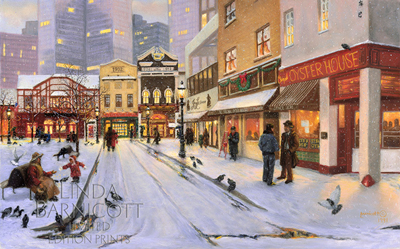 In the last two weeks, I've shared stories with you about my first two Pittsburgh paintings. This week I'm going to skip ahead one and tell you a story about the fourth painting in my first Pittsburgh series, "Sharing the Season at Market Square."
When I began my preliminary sketches, I made the creative decision to remove an entire block between what was then the Jenny Lee Bakery and a group of older buildings, including the "1902 Landmark Tavern." There was another nondescript building there at that time, but I felt it didn't fit in with the composition and the quaint "Old Pittsburgh" vibe I was going for. So by removing it from the painting, I was able to bring the wonderful architecture of the older, more interesting buildings in closer for the viewer's eye to enjoy.
Because I wanted this to be a holiday-themed painting, I decided to add a Salvation Army bell ringer. I also included a glimpse of diners through the windows of the Original Oyster House… perhaps taking a break from holiday shopping to enjoy a fish sandwich?
For the next step, I put in a very specific weather request. To get the photos to paint my Market Square winter scene, I needed a quiet morning with freshly fallen snow. Fortunately, Downtown Pittsburgh was pretty empty on Sunday mornings back in 1991, and it didn't take long before my request was granted, and I had my perfect Sunday morning snowfall.
When I arrived at Market Square, I was delighted to find a woman sitting all alone on a park bench, feeding bread to the pigeons. There must have been a thousand of them flying all around her. I knew immediately I wanted to include that lady in my painting. I took plenty of photos so that I could paint the birds that were in flight as well as the ones feeding on the ground.
Then as I sat down with my sketch pad, a tune started playing in my head… it was "Feed the Birds" from the 1964 Disney film, Mary Poppins. The song tells of an old lady who sits on the steps of St. Paul's Cathedral selling breadcrumbs to passers-by at "tuppence a bag" so they can feed the many pigeons that surround her.
To play her part, I asked a woman from our church to pose for me. I even gave her a new outfit in the painting to look more like the character in the movie. And of course, you know Tom had to be in there somewhere… I painted him (he's the guy in the blue coat) talking with the Bird Lady's husband.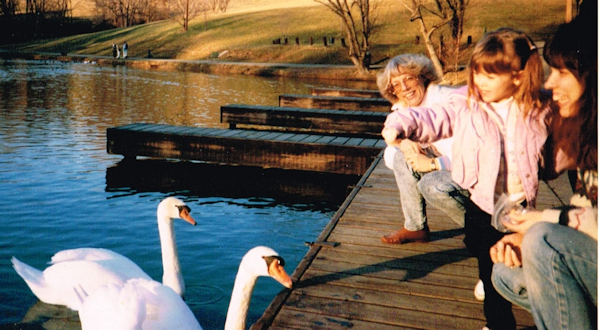 Then to add a little more fun to the painting, I borrowed from this photo of my daughter Brittany feeding the swans at North Park. Obviously, this photo is one of my favorites, because later when I painted "Making Memories at Noah's Ark," I went back to this photo again to fill in a gap in the bottom right of the painting.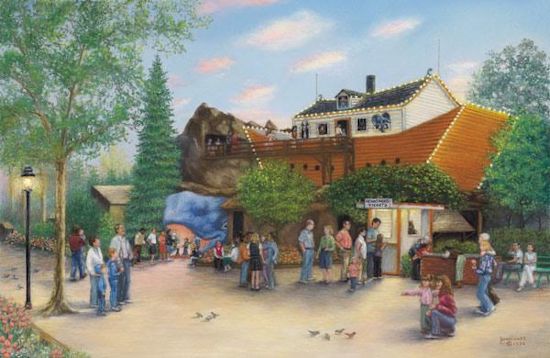 "Sharing the Season at Market Square." was one of my best-selling holiday paintings, and it was the first Pittsburgh painting I created that contrasted "Old Pittsburgh" with the newer Steel City in the background.
The original edition of this painting has been sold, but you can get a print in a slightly smaller archival giclee edition. Click Here to start your shopping.
Do you have any Market Square memories to share? I'd love to hear from you. Drop me an email at info@lindabarnicott.com
Make sure you are the first to know about all of my news, appearances and any "special deals" I am offering to my subscribers, by taking the time to sign up for my weekly newsletters now. CLICK HERE to sign up. You will also receive a FREE slideshow showing the step-by-step development of my painting, "Celebrating Time and Tradition at Macy's".