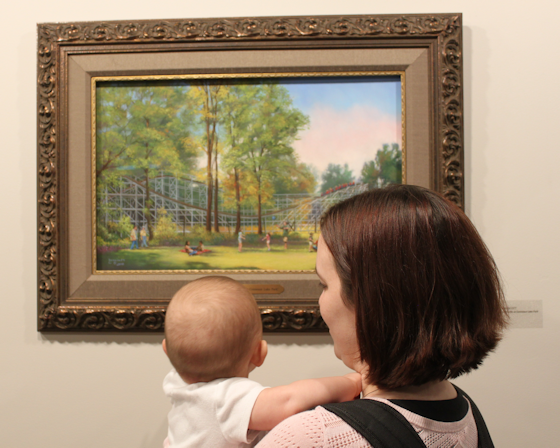 Hi, it's The Birthday Girl!
Yes, today is my birthday, and it's turning out to be a glorious spring day! I've been starting to wake up my garden now for the last couple weeks, getting my hands in the dirt and smelling the fresh air. It's done a lot for my spirits.
Anyway, this has been an exciting week for our family (and not just because of my birthday)!
One of the highlights was on Sunday when my granddaughter Aria attended her first big art show. The show is called "Pure Pigment," and it's currently running at The Artsmiths of Pittsburgh.
"Pure Pigment" is a fabulous show is sponsored by the Pittsburgh Pastel Artists League, displaying and selling beautiful art works from 28 very talented local pastel artists.
The show opened on Sunday with a lovely reception at The Artsmiths of Pittsburgh gallery on McFarland Road in Mt. Lebanon. I was so excited to go to the reception, and as soon as I walked in, I had a wonderful surprise… friends from our old church in Monroeville came all the way out to see the show and wish me well. That certainly put a huge smile on my face!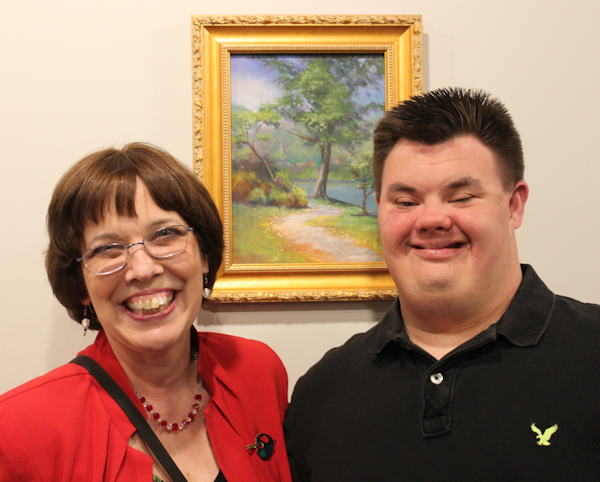 Then later on at the reception, I had a chance to catch up with a new (and very talented) friend, Dan. He also has his work hanging upstairs in the art and gift shop at Artsmiths. He and his family are the kindest people, and I was thrilled that they came out for the show's opening.
If you would like to check out "Pure Pigment," the show runs until May 20th at The Artsmiths of Pittsburgh gallery at 1635 McFarland Rd., Pittsburgh 15216. Gallery hours are daily from 10-6, Thursdays from 10-8, and Sundays from 12-5.
On Thursday, May 11th, I will be leading a discussion at the gallery that is free and open to the public. It starts at 6:30 pm. Mark your calendars! I would love for you to come, enjoy the beautiful art at Artsmiths of Pittsburgh, and share the evening with me. Visit their website, www.artsmithspgh.com, to learn about other special events during the show.
P.S. – Next week I'll be back at the David L Lawrence Convention Center once again. (I know, it feels like I just left!) I'm exhibiting at the new Pittsburgh Business Show on Wednesday, April 19th and Thursday, April 20th. The hours are Wednesday 8 a.m. to 8 p.m. and Thursday 9 a.m. to 5 p.m. There is no cost to attend. I'll be there with plenty of items for sale. Please stop by and say hi! CLICK HERE to view my Calendar of Events and find out more about this and other upcoming events.
P.P.S. – It's been a while since I showed off a photo of Miss Aria. I thought you might enjoy this new photo of her scooting around. She's growing up fast!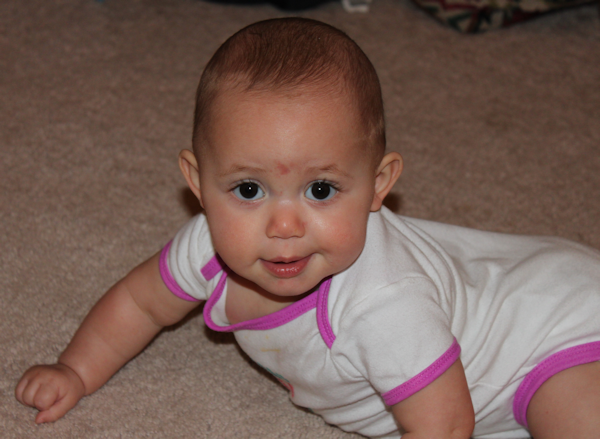 Make sure you are the first to know about all of my news, appearances and any "special deals" I am offering to my subscribers, by taking the time to sign up for my weekly newsletters now. CLICK HERE to sign up. You will also receive a FREE slideshow showing the step-by-step development of my painting, "Celebrating Time and Tradition at Macy's".