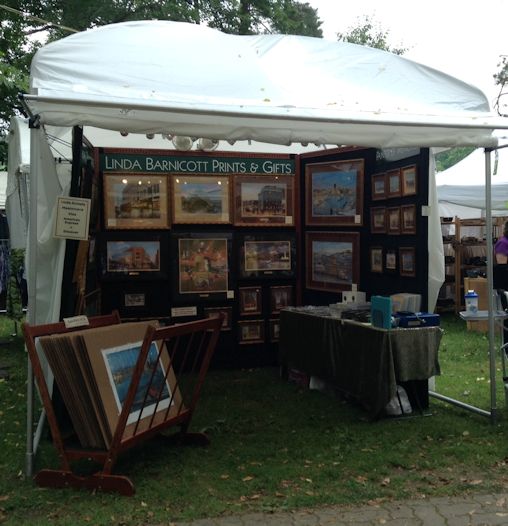 I have so much to share with you this week!
I told you last week about our terrible experience with the storm at the Three Rivers Arts Festival. With the damage done to my tent and my art (not to mention done to ourselves!), I wondered if I would ever do an outdoor show again. But you know what they say… when you fall off the horse, the best thing you can do is climb back on and keep riding!
That being said, I have a brand new tent that I'll be setting up for the first time this weekend at the Westmoreland County Arts and Heritage Festival… also known as the Twin Lakes Art Show. I'll have a nice selection of giftware and prints at my tent in booth space #96 from Thursday, July 2nd through Sunday, July 5th! Check my calendar for more details
The Jolly Old Elf series will also make an appearance at Twin Lakes, with new prints of "Shhhh!" and new Santa magnets (hot off the presses!) as well. I'm still proofing the ornaments and also working on this season's holiday cards.
Needless to say, after the disaster at Three Rivers, I will no longer be bringing any pastel originals to outdoor exhibitions, now or in the future. If you're interested in purchasing one of my original pastel paintings, please contact me at (412) 283-4072. I will be more than happy to give you a private showing at my studio (326 Turngate Drive in Bethel Park), where all my originals are nicely displayed, safe from the wind and rain!
Speaking of originals, I recently drove out to Beaver to pick up Father Richard's original painting of "Shhhh!" from my framer of choice, the Courtney-Laughlin Gallery on Third Street. The frame was so heavy, I had to let them put it in my van – I wasn't taking any chances! Those frames are a lot heavier than they look! Being 5 feet tall is definitely a disadvantage when there's heavy lifting to be done. Father Richard and the folks at the rectory just loved the magnificent framing around the painting – it really made the piece look festive.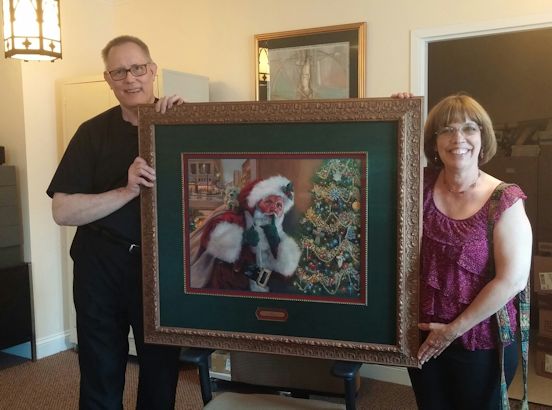 I've already sold several complete Jolly Old Elf Collections! Don't forget – you can purchase all five years of the edition now, locking in the price. As a bonus, you'll also receive the 9" x 12" open-edition prints at no cost – at least a $70 savings for each print. They will be created (at least one a year) along with the limited-edition Jolly Old Elf series, and you'll receive them automatically as they are painted and printed.
They will make great gifts… or you can simply add them to your collection as companion pieces to the Jolly Old Elf series. Order the collection now and get a low number in any of the three editions. Please contact me if you are interested in this special offer.
Hope to see you this week at Twin Lakes! Keep your fingers crossed for sunny weather!
Make sure you are the first to know about all of my news, appearances and any "special deals" I am offering to my subscribers, by taking the time to sign up for my weekly newsletters now. CLICK HERE to sign up. You will also receive a FREE slideshow showing the step-by-step development of my painting, "Celebrating Time and Tradition at Macy's".