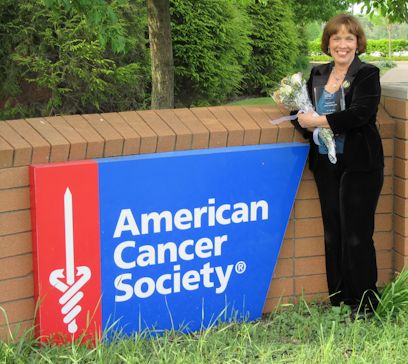 The one thing in life that is inevitable is change. This week marked the end of an era for me, and I wanted to share that very emotional moment in my life with you.
It feels as if for my whole career I've been creating a painting each year for the American Cancer Society's holiday cards, though actually, it's only been 16 years since I started in 1998. I always felt it was a way of giving back to the community in gratitude for my art career. I have been so blessed to make a living doing what I love, and I'm proud to have been able to help the ACS raise money to provide everything from vouchers for mammograms to funds for research and prevention.
This week, the American Cancer Society announced that they are ending the holiday card program and moving on to other fundraising vehicles. I was there when the announcement was made, and they honored me for all the years that I created their cards. In the 16 years I have been working with the ACS, my little cards have generated over $750,000 in revenue to help defeat cancer.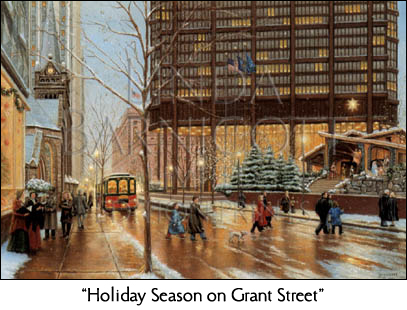 And here's another reason why supporting this program has meant so much to me – it's how some of you discovered me! The ACS was always kind enough to print my contact information on the back of each card, and it brought me many new friends and followers. This year they will be selling any remaining cards they have in stock during their events, so there will still be a chance to buy some cards and help out this worthwhile cause.
Thank you to all who have supported the American Cancer Society over the years by purchasing my holiday cards. It has been my great pleasure to be a part of this wonderful program for 16 years and to have been chosen to depict my hometown in all of its festive holiday glory.
One more thing… Next week, I'll have an exciting announcement to share – so stay tuned!
P.S. – Mark your calendars! On Saturday, May 30th and Sunday, May 31st, I will be back on Walnut Street for the first Shadyside Arts Festival of the summer (there will be a second one in August). Can't wait to see you there! Check my calendar for more details
Make sure you are the first to know about all of my news, appearances and any "special deals" I am offering to my subscribers, by taking the time to sign up for my weekly newsletters now. CLICK HERE to sign up. You will also receive a FREE slideshow showing the step-by-step development of my painting, "Celebrating Time and Tradition at Macy's".