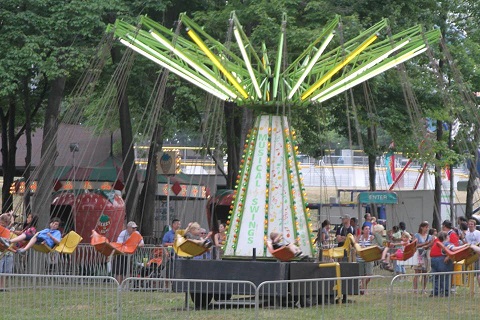 I'd like to say the big move is now behind us, but there's still so much to do before we're completely unpacked and settled in. Part of the process is figuring out how to transform this unfamiliar space that you have now occupied into something that is truly your own… arranging, storing, and displaying your "stuff" in a way that makes it your HOME.
Nevertheless, the artist's busy lifestyle doesn't allow for much down time (it's not all painting beautiful cityscapes from Mount Washington!), and within 48 hours of the move, I was exhibiting at the wonderful Westmoreland Arts and Heritage Festival at Twin Lakes Park. It was a great experience to exhibit in this new venue and meet so many art lovers and friends, old and new.
And that's not all… starting today, I'll be at 2014 CTCC (Cranberry Township Community Chest) Community Days – Thursday from 4:00 to 10:00 PM, Friday from 4:00 PM to 1:00 AM, and Saturday from 1:00 to 10:00 PM. The event is in Cranberry Township Community Park, just off Route 19. In addition to Art in the Park, there will be concerts, a car cruise, carnival rides, an expanded kids' area, and more. Sounds like a fantastic weekend outing for the family! For more information about this event and all of my upcoming appearances visit my website's Calendar of Events at www.lindabarnicott.com/events
Stop by and see me at CTCC Community Days – I'll be in Booth #B-16. Just mention this blog, and you'll receive a FREE signed notecard!
My summers are always action-packed, but I think this year is a new record! Not just our move to a new home and new church, but also getting to know our new congregation, exhibiting at new venues, and setting up my entire studio in a new location! As they say, change is inevitable… and it certainly keeps me busy!
To make sure you always receive the latest information, please take the time to sign up for my weekly newsletters. CLICK HERE to become a subscriber. When you sign up you will also receive a FREE slideshow showing the step-by-step development of my painting, "Celebrating Time and Tradition at Macy's".