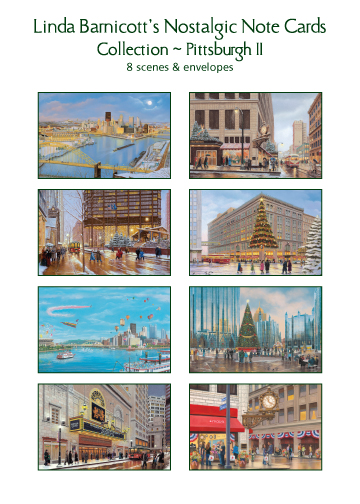 I hope you are all well this week and had a great Easter weekend! Ours was full of life and activity this year as we celebrated by hosting the entire family for our first Easter dinner in our new home. In fact, this year for the first time, we actually had to extend our table into the living room in order for everyone to fit!
Speaking of a full house… my storeroom is full to bursting with inventory! Prints of Pittsburgh, prints of amusement parks, prints of sports scenes and schools in the Pittsburgh area. But it's not just paintings and prints. Over the years, I've turned many of my paintings into note cards, and those boxes take up a LOT of room. Which is another reason my storeroom is overflowing!
You'd be surprised at how many of my paintings are available on note cards, and unless you came to my studio, you would never have seen them all at one time. Now I've organized all of my note cards into collections, and you can check out all the collections on my website at https://lindabarnicott.com/note-cards-for-sale/.
They make excellent gifts for Mother's Day, hostess gifts, teacher gifts… or why not include one as part of a Pittsburgh-themed gift basket?
Finally, some real spring weather! I hope you enjoy it and have a wonderful week!
Make sure you are the first to know about all of my news, appearances and any "special deals" I am offering to my subscribers, by taking the time to sign up for my weekly newsletters now. CLICK HERE to sign up. You will also receive a FREE slideshow showing the step-by-step development of my painting, "Celebrating Time and Tradition at Macy's".