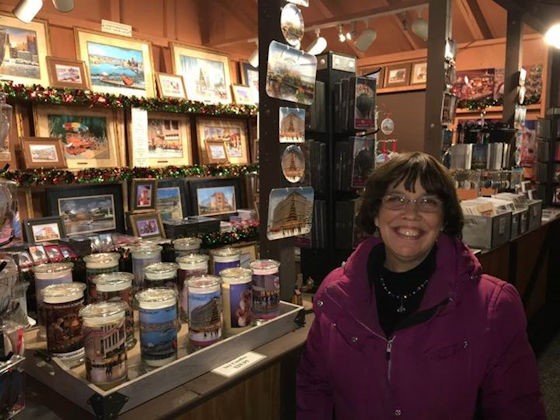 Ho-Ho-Ho – It's Linda!
Every day for the last few weeks I've had the same routine. I wake up, and I dress in my warmest clothing. Then I head off to the Holiday Market in Market Square, where I get to hang out all day at my little Chalet full of art and gifts… and I love every minute of it!
One of the best parts of the Holiday Market is that every day I have the privilege of meeting fascinating people from all walks of life. My smile could not be any bigger as we share stories and talk about Pittsburgh. Many out-of-town visitors tell me that they see our town as a mini-New York – we have the culture without the congestion!
So today I was reminded of that song from The Sound of Music as I sit here surrounded by a chalet-full of my favorite pieces, large and small: ornaments, magnets, coasters, mint trays, sandwich trays, bookmarks, key chains, candles, note cards, Christmas cards, mini prints and framed prints. These are (more than) a few of my favorite things!

One of the newer items here at the Chalet this year is my Wendell August Forge Sandwich Trays. Each one is handmade at the Forge. They're dishwasher safe, scratch resistant and fade resistant. They're very durable and lightweight – perfect for shipping to faraway friends and family. Just put them in a bubble envelope, and they will arrive in perfect condition. Check them out on my website athttps://lindabarnicott.com/product-category/sandwich-trays/.
The deadline for guaranteed Christmas delivery via US Postal Service shipping is noon on the 20th of December. So this is the last week to order online!
Some items are beginning to sell out, and inventory will not be replenished until the new year, so if you have a particular gift item or print in mind, everything is available while supplies last on a first-come, first-served basis.
And of course, I'll be at the Holiday Market through the night of Saturday, December 23rd. I would be happy to be of service to you and help brighten your holiday season with Pittsburgh memories!
Happy Holidays to All!