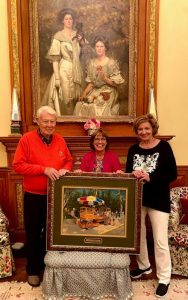 The weekend before last, Tom and I personally delivered my original pastel painting, "Ice Ball Treats with Gus and YiaYia," to its new home in Connecticut with the Rooney family. (Yes, THAT Rooney family!)
We had the pleasure of spending the afternoon and evening with the piece's new owners, June and Tim Rooney. They loved that Tim's brother, Dan Rooney, appeared in the painting, sitting and watching while Gus shaved the ice for his ice-ball treats.
Shipping an original pastel that size would have given me sleepless nights! So instead, we took a road trip, had an adventure, and created a lovely friendship. I'm honored that my painting will be a part of the lives of the Rooney family.
Now as we head into fall, Show Season is in full swing. And speaking of "full swings," I have an announcement!
I'm creating a new Santa Claus painting for 2023 after all. This one may take me a little extra time to paint because of the amount of detail, but I'm off to a good start.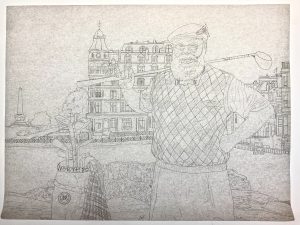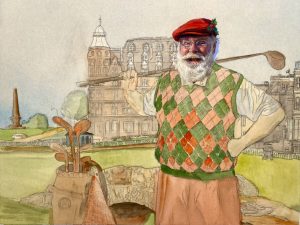 The working title is "Santa Golfs St. Andrews," which kind of says it all. St. Andrews, Scotland, is known as The Home of Golf, and the game has been played on its links for over 600 years! It was fun developing the sketch and gathering all the elements to make it special – including a vintage leather golf bag and clubs, a Christmas plaid golf cloth with a suggestion of snow, a candy-cane emblem, and even holly on Santa's golf hat. In the background, you can see the famous St. Andrews Hamilton Grand as well as the historic Swilcan Bridge.
The original pastel painting has already been sold… even before I finished painting it! I hope to have it done in a few weeks and will keep you updated.