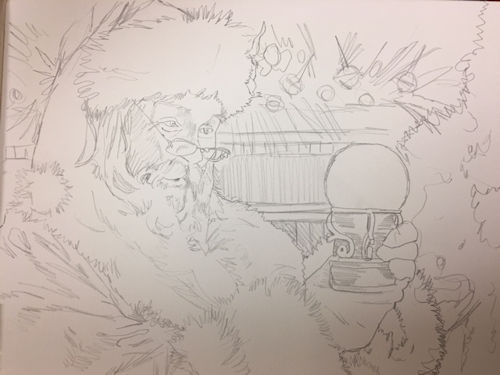 Artists sometimes have an upside-down perspective on the seasons. Because the creative process takes time, we have to think many months ahead to prepare for the next season.
So now that spring/summer has fully arrived (simultaneously this year!), my thoughts have turned toward Christmas… particularly, the 2018 paintings in my "Jolly Old Elf" series.
This year's companion print – the one that inspired me first – is Santa looking into a beautiful sparkly snow globe. But as you can see, the globe is empty!
It's not that I don't know what to put in the snow globe – I've already decided, but I'm just not ready to finish it quite yet. So in the meantime, I thought why not have a contest to see who can guess what's going to be inside the snow globe?
Here are the rules…
Each person gets one guess. The contest will run until I reveal the entire sketch. Everyone who guesses correctly will be entered into the drawing, and the winner will receive a free print of this painting when it's finished. As always, you'll know when it's done because I like to share the progress of each painting with you!
The deadline for entry is Thursday, June 14th, and the winner will be announced on Thursday, June 28th.
What's inside the magical snow globe? Put on your thinking cap and send me an email with your best guess!
Merry (early) Christmas!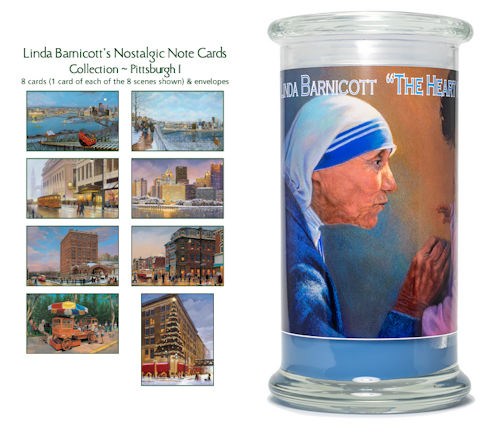 P.S. – Some of you have young children who are finishing up the school year, and you may be looking for gifts for teachers, aides, cafeteria staff, and so on. One of the attendees at my morning meeting today just ordered a Mother Teresa candle and three boxes of Pittsburgh and Kennywood note cards.
She told me that she needed them for next Wednesday and requested that I sign them in gold (as I'm always happy to do for any customer). I assured her that I had them in stock and would have them ready in plenty of time for her son to take them to school.
So if you're thinking about end-of-year teachers' gifts, check out my website,  www.lindabarnicott.com. You may find that perfect gift to say 'Thank you for caring for my child.'