Looking for a unique painting for your home or loved one that will last a lifetime?
You are invited to view Linda's new original landscape paintings, "Beautiful Beyond Pittsburgh" and from Linda's newest series, "Pennsylvania's Route 6″, featuring a collection of pastel landscapes painted by Linda during her travels across Route 6 in Pennsylvania and her travel's across the country.
Each painting has a beautiful, tranquil appeal and is painted in the finest pastels some with underpaintings in watercolor and oil and makes a perfect gift for that someone special.

Email or call Linda at 1-888-748-8278 to purchase any of these original paintings.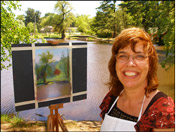 Route 6 Artisan Trail Project
Sponsored by: Pennsylvania Route 6 Alliance
Linda is please to be among several artists who, in the summer of 2011, volunteered to travel along Route 6 to produce landscape art works in communities along the way. Click here to read more about the project.